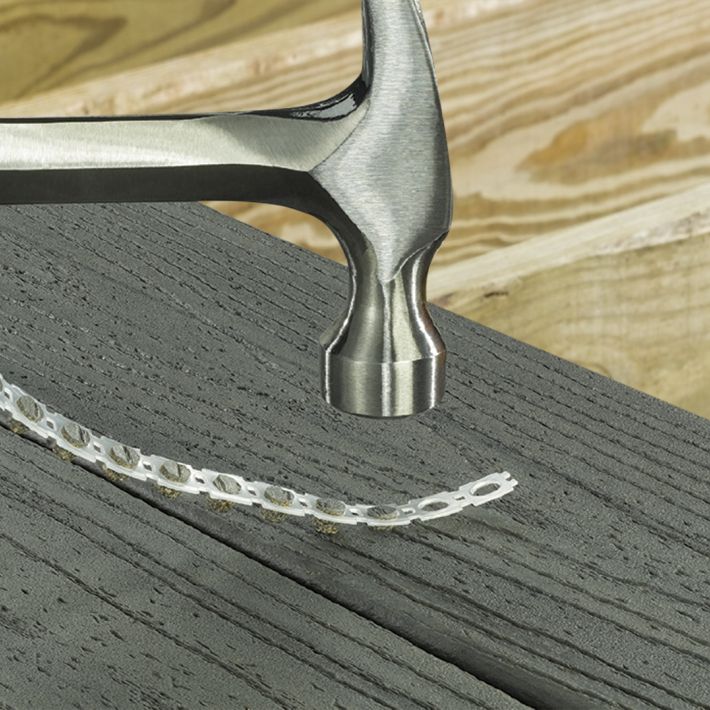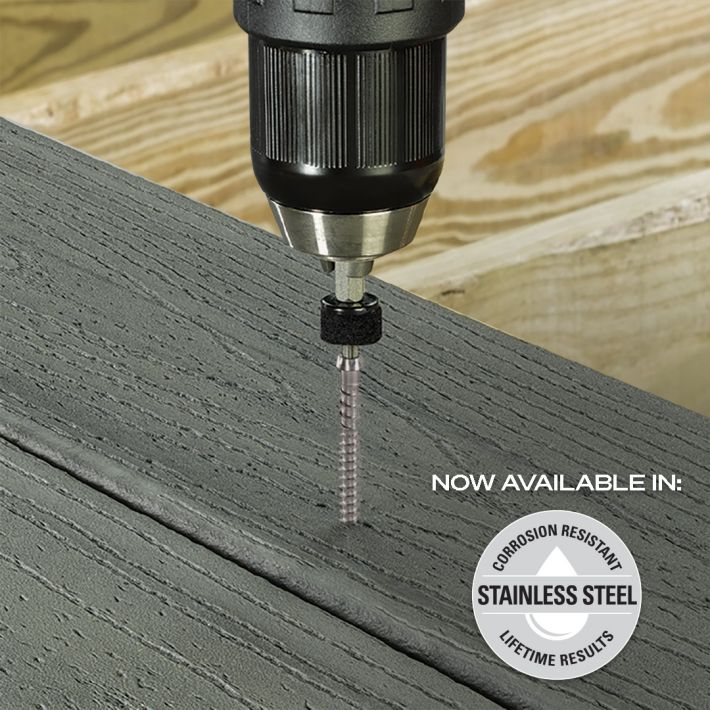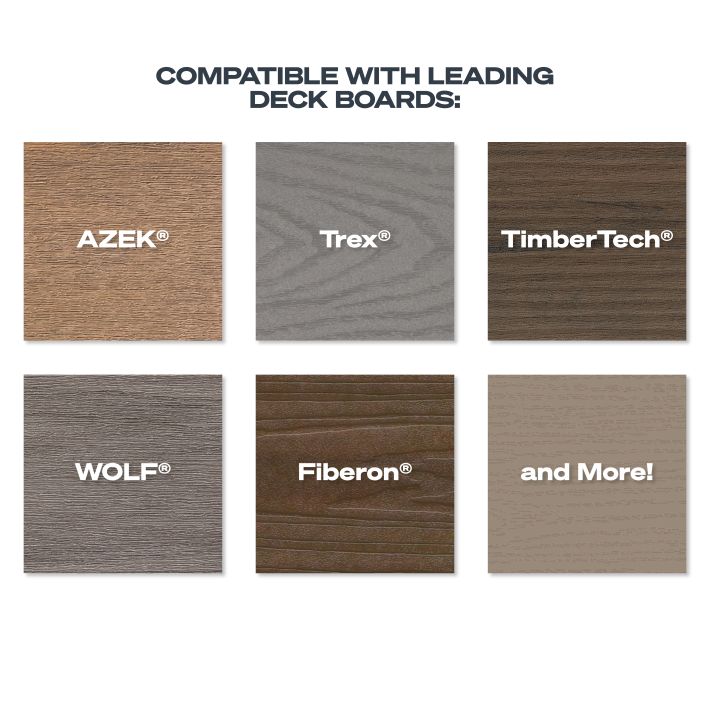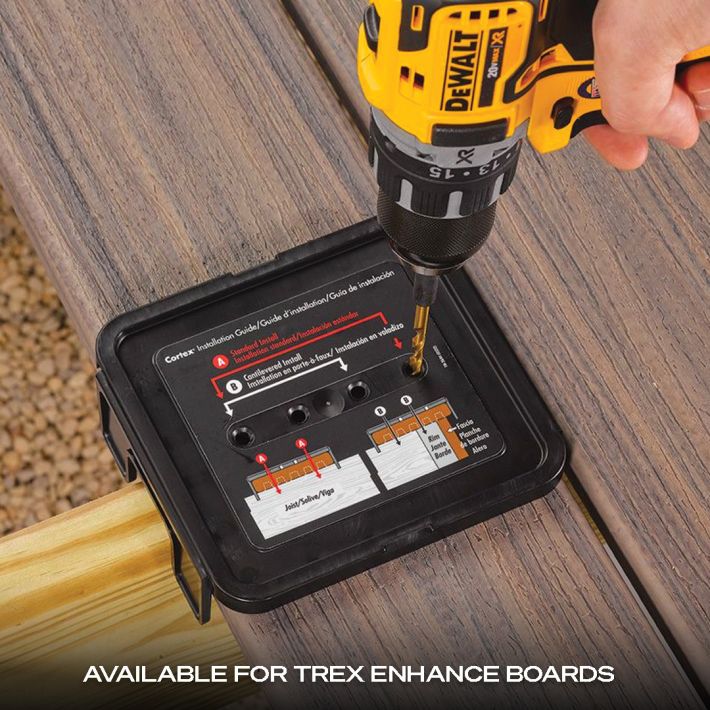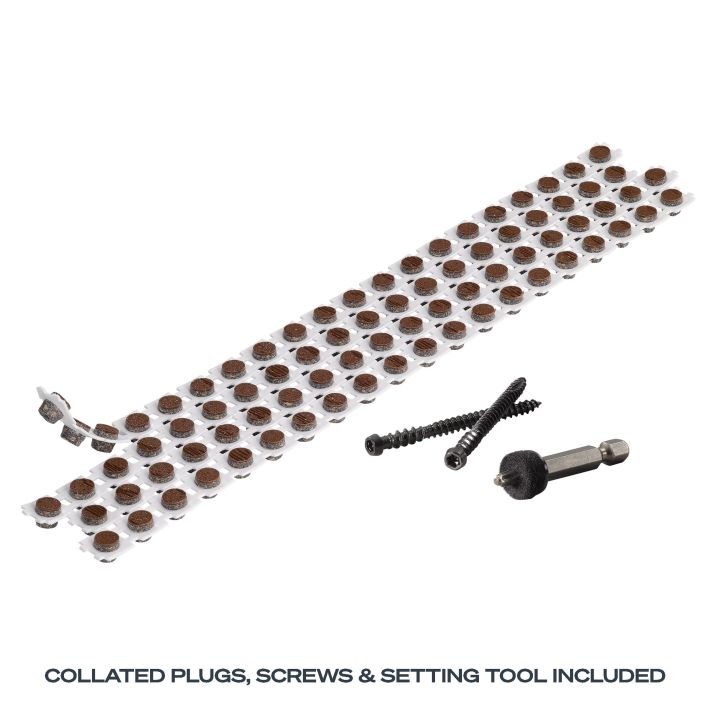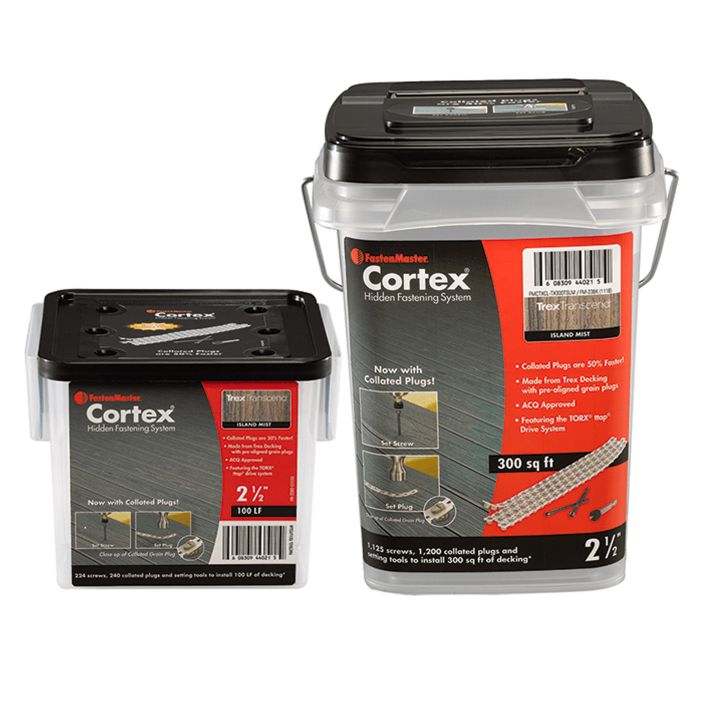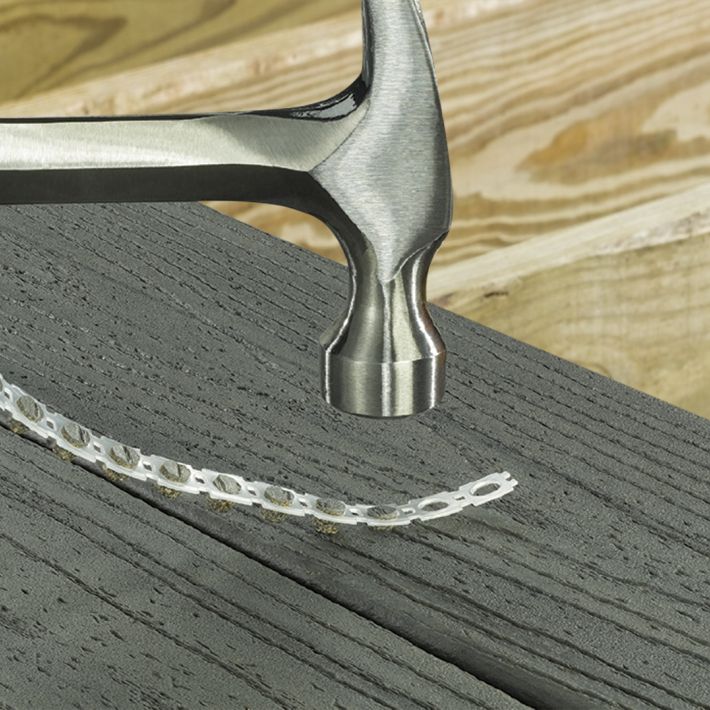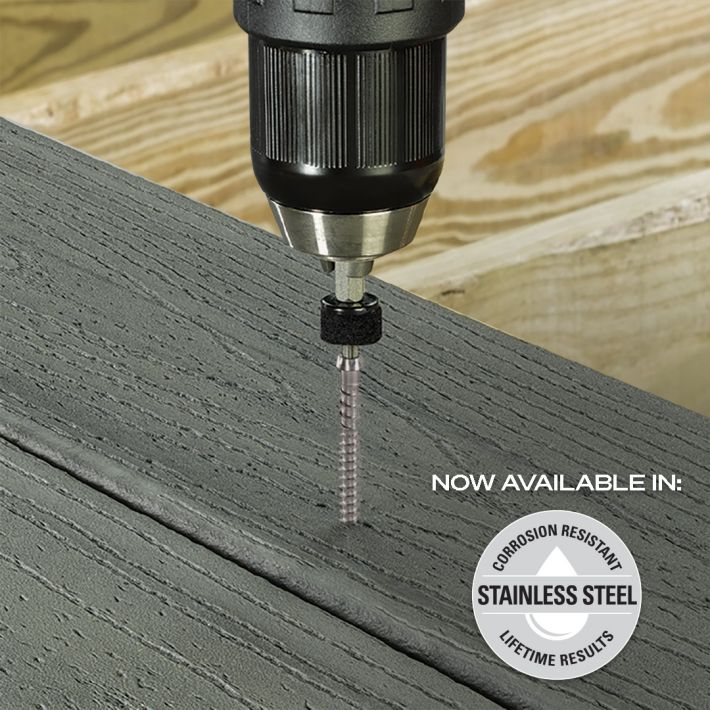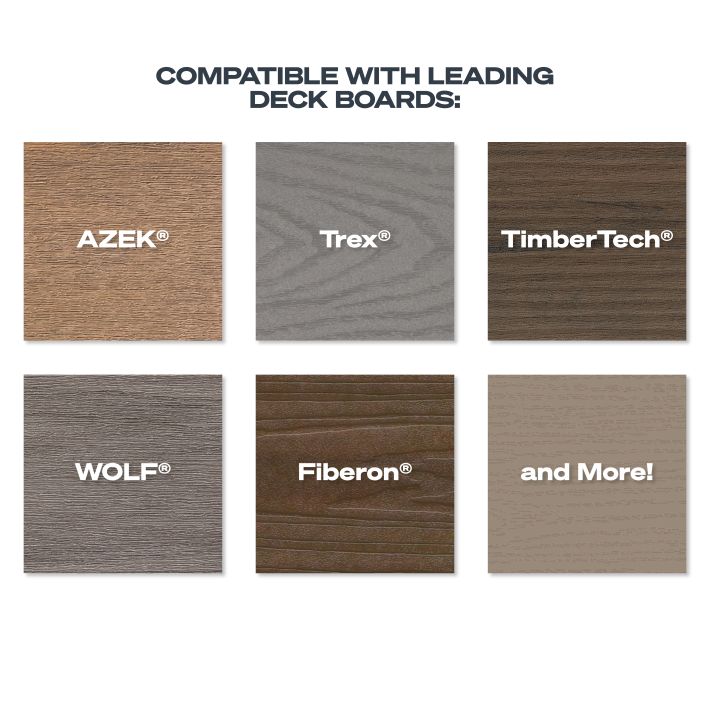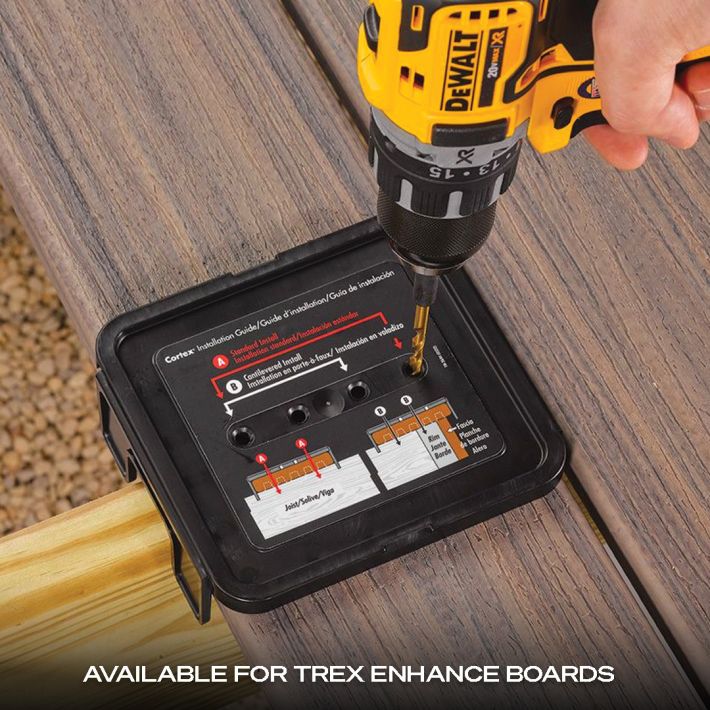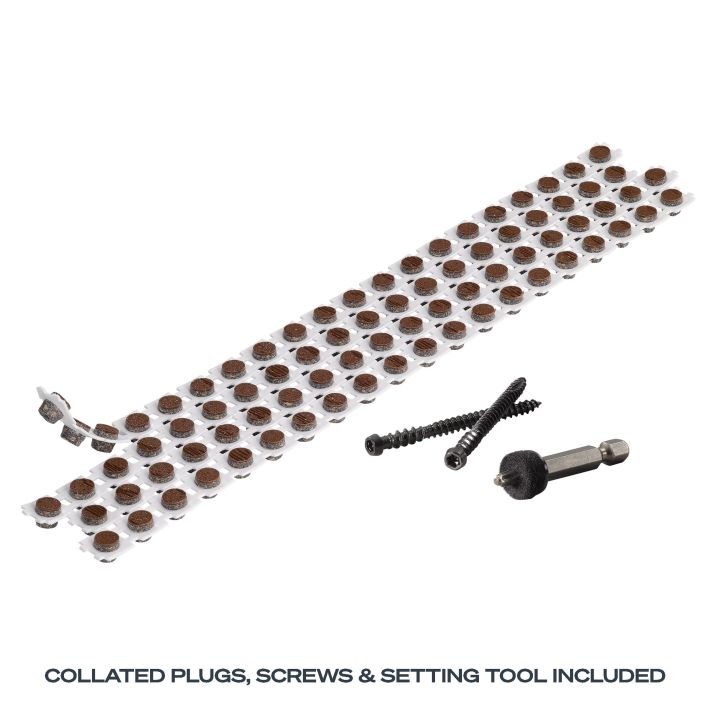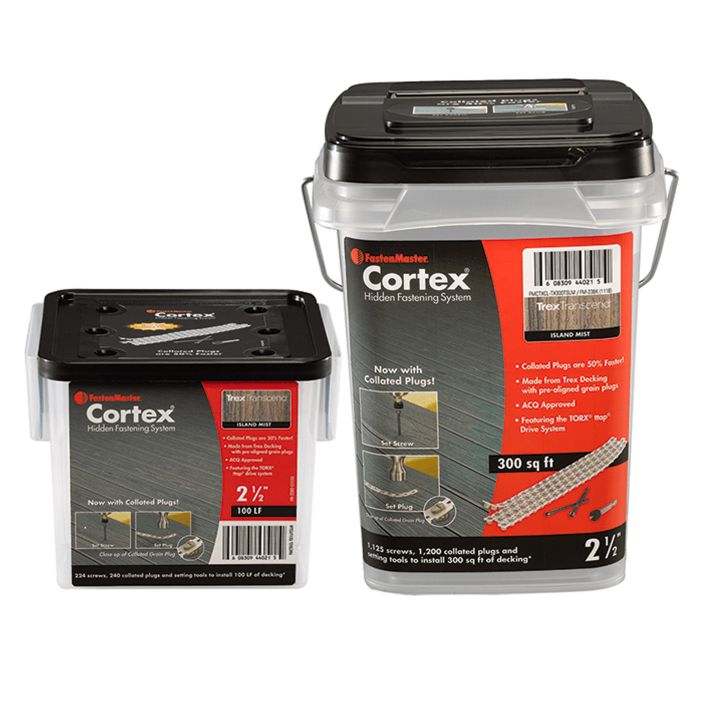 The Cortex Hidden Fastening System is the fastest, easiest way to hide the heads of your deck screws across the entire deck, first and last board, perimeter, and stairs.
Collated Cortex for Decking
Hidden Fastening System
For AZEK®, Trex®, TimberTech®, WOLF®, Fiberon® & More!

Perfect Match, Clean Finish
Cortex plugs are made from the same material as market-leading deck boards, creating a 100% perfect match every time.

Pre-Aligned Collated Strips
Cortex plugs come on a collated strip with pre-aligned grains, so there's no need to fumble around with loose plugs

TORX® ttap® Drive System
TORX® ttap® provides superior bit engagement for a stable, wobble-free installation experience.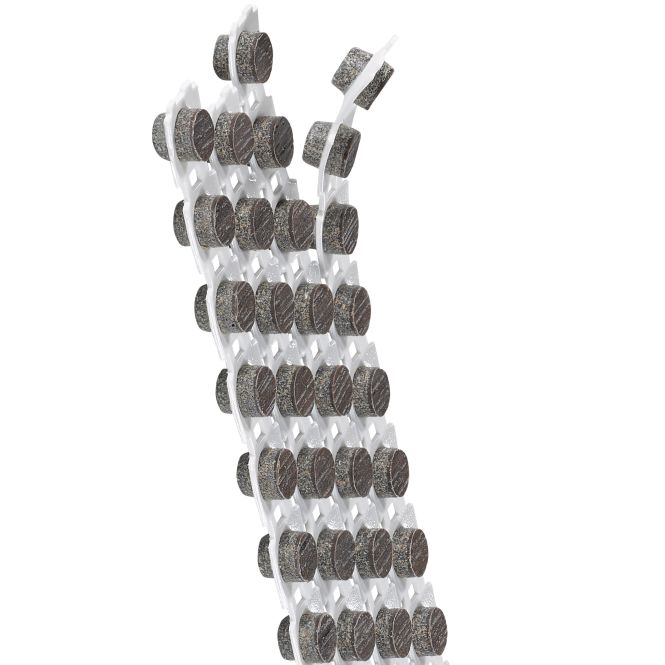 Decking Color Match Tool
Just enter your brand of decking material and color you're working with and we'll provide you with the right FastenMaster products that perfectly match your needs
Part Numbers
Only Trex compatible products are listed. Also available for AZEK®, TimberTech®, WOLF®, Fiberon® and more. Contact the board manufacturer or your Local Dealer for more information.
Manufacturer
Collection
Color
Length
Material
Collated vs. Loose
Packaging
SKU
Trex
Enhance
Foggy Wharf
2 1/2"
Carbon Steel
Collated
100 lin ft
FMCTXCL-TX1LFENFW
Trex
Enhance
Toasted Sand
2 1/2"
Carbon Steel
Collated
100 lin ft
FMCTXCL-TX1LFENTS
Trex
Enhance
Coastal Bluff
2 1/2"
Carbon Steel
Collated
100 lin ft
FMCTXCL-TX1LFENCB
Trex
Enhance
Rocky Harbor
2 1/2"
Carbon Steel
Collated
100 lin ft
FMCTXCL-TX1LFENRH
Trex
Enhance
Beach Dune
2 1/2"
Carbon Steel
Collated
100 lin ft
FMCTXCL-TX1LFENBD
Trex
Enhance
Clam Shell
2 1/2"
Carbon Steel
Collated
100 lin ft
FMCTXCL-TX1LFENCS
Trex
Enhance
Saddle
2 1/2"
Carbon Steel
Collated
100 lin ft
FMCTXCL-TX1LFENSD
Trex
Select
Madeira
2 1/2"
Carbon Steel
Collated
100 lin ft
FMCTXCL-TX1LFSLMD
Trex
Select
Madeira
2 1/2"
Carbon Steel
Collated
300 sq ft
FMCTXCL-TX300SLMD
Trex
Select
Madeira
2 1/2"
Stainless Steel
Collated
100 lin ft
FMCTXCL-TX1LSLMDSS
Trex
Select
Pebble
2 1/2"
Carbon Steel
Collated
100 lin ft
FMCTXCL-TX1LFSLPB
Trex
Select
Pebble
2 1/2"
Carbon Steel
Collated
300 sq ft
FMCTXCL-TX300SLPB
Trex
Select
Pebble
2 1/2"
Stainless Steel
Collated
100 lin ft
FMCTXCL-TX1LSLPBSS
Trex
Select
Saddle
2 1/2"
Carbon Steel
Collated
100 lin ft
FMCTXCL-TX1LFSLSD
Trex
Select
Saddle
2 1/2"
Carbon Steel
Collated
300 sq ft
FMCTXCL-TX300SLSD
Trex
Select
Saddle
2 1/2"
Stainless Steel
Collated
100 lin ft
FMCTXCL-TX1LSLSDSS
Trex
Select
Winchester Grey
2 1/2"
Carbon Steel
Collated
100 lin ft
FMCTXCL-TX1LFSLWG
Trex
Select
Winchester Grey
2 1/2"
Carbon Steel
Collated
300 sq ft
FMCTXCL-TX300SLWG
Trex
Select
Winchester Grey
2 1/2"
Stainless Steel
Collated
100 lin ft
FMCTXCL-TX1LSLWGSS
Trex
Select
Woodland Brown
2 1/2"
Carbon Steel
Collated
100 lin ft
FMCTXCL-TX1LFSLWB
Trex
Select
Woodland Brown
2 1/2"
Carbon Steel
Collated
300 sq ft
FMCTXCL-TX300SLWB
Trex
Select
Woodland Brown
2 1/2"
Stainless Steel
Collated
100 lin ft
FMCTXCL-TX1LSLWBSS
Trex
Signature
Ocracoke
2 1/2"
Carbon Steel
Collated
100 lin ft
FMCTXCL-TX1LFSGCK
Trex
Signature
Ocracoke
2 1/2"
Carbon Steel
Collated
300 sq ft
FMCTXCL-TX300SGCK
Trex
Signature
Whidbey
2 1/2"
Carbon Steel
Collated
100 lin ft
FMCTXCL-TX1LFSGWD
Trex
Signature
Whidbey
2 1/2"
Carbon Steel
Collated
300 sq ft
FMCTXCL-TX300SGWD
Trex
Transcend
Biscayne
2 1/2"
Carbon Steel
Collated
100 lin ft
FMCTXCL-TX1LFTSBC
Trex
Transcend
Biscayne
2 1/2"
Carbon Steel
Collated
300 sq ft
FMCTXCL-TX300TSBC
Trex
Transcend
Carmel
2 1/2"
Carbon Steel
Collated
100 lin ft
FMCTXCL-TX1LFTSCM
Trex
Transcend
Carmel
2 1/2"
Carbon Steel
Collated
300 sq ft
FMCTXCL-TX300TSCM
Trex
Transcend
Gravel Path
2 1/2"
Carbon Steel
Collated
100 lin ft
FMCTXCL-TX1LFTSGP
Trex
Transcend
Gravel Path
2 1/2"
Carbon Steel
Collated
300 sq ft
FMCTXCL-TX300TSGP
Trex
Transcend
Gravel Path
2 1/2"
Stainless Steel
Collated
100 lin ft
FMCTXCL-TX1LTSGPSS
Trex
Transcend
Havana Gold
2 1/2"
Carbon Steel
Collated
100 lin ft
FMCTXCL-TX1LFTSHG
Trex
Transcend
Havana Gold
2 1/2"
Carbon Steel
Collated
300 sq ft
FMCTXCL-TX300TSHG
Trex
Transcend
Havana Gold
2 1/2"
Stainless Steel
Collated
100 lin ft
FMCTXCL-TX1LTSHGSS
Trex
Transcend
Island Mist
2 1/2"
Carbon Steel
Collated
100 lin ft
FMCTXCL-TX1LFTSLM
Trex
Transcend
Island Mist
2 1/2"
Carbon Steel
Collated
300 sq ft
FMCTXCL-TX300TSLM
Trex
Transcend
Island Mist
2 1/2"
Stainless Steel
Collated
100 lin ft
FMCTXCL-TX1LTSLMSS
Trex
Transcend
Jasper
2 1/2"
Carbon Steel
Collated
100 lin ft
FMCTXCL-TX1LFTSJP
Trex
Transcend
Jasper
2 1/2"
Carbon Steel
Collated
300 sq ft
FMCTXCL-TX300TSJP
Trex
Transcend
Lava Rock
2 1/2"
Carbon Steel
Collated
100 lin ft
FMCTXCL-TX1LFTSLR
Trex
Transcend
Lava Rock
2 1/2"
Carbon Steel
Collated
300 sq ft
FMCTXCL-TX300TSLR
Trex
Transcend
Lava Rock
2 1/2"
Stainless Steel
Collated
100 lin ft
FMCTXCL-TX1LTSLRSS
Trex
Transcend
Rainer
2 1/2"
Carbon Steel
Collated
100 lin ft
FMCTXCL-TX1LFTSRN
Trex
Transcend
Rainer
2 1/2"
Carbon Steel
Collated
300 sq ft
FMCTXCL-TX300TSRN
Trex
Transcend
Rope Swing
2 1/2"
Carbon Steel
Collated
100 lin ft
FMCTXCL-TX1LFTSRS
Trex
Transcend
Rope Swing
2 1/2"
Carbon Steel
Collated
300 sq ft
FMCTXCL-TX300TSRS
Trex
Transcend
Rope Swing
2 1/2"
Stainless Steel
Collated
100 lin ft
FMCTXCL-TX1LTSRSSS
Trex
Transcend
Spiced Rum
2 1/2"
Carbon Steel
Collated
100 lin ft
FMCTXCL-TX1LFTSSR
Trex
Transcend
Spiced Rum
2 1/2"
Carbon Steel
Collated
300 sq ft
FMCTXCL-TX300TSSR
Trex
Transcend
Spiced Rum
2 1/2"
Stainless Steel
Collated
100 lin ft
FMCTXCL-TX1LTSSRSS
Trex
Transcend
Tiki Torch
2 1/2"
Carbon Steel
Collated
100 lin ft
FMCTXCL-TX1LFTSTT
Trex
Transcend
Tiki Torch
2 1/2"
Carbon Steel
Collated
300 sq ft
FMCTXCL-TX300TSTT
Trex
Transcend
Tiki Torch
2 1/2"
Stainless Steel
Collated
100 lin ft
FMCTXCL-TX1LTSTTSS
Trex
Transcend
Vintage Lantern
2 1/2"
Carbon Steel
Collated
100 lin ft
FMCTXCL-TX1LFTSVL
Trex
Transcend
Vintage Lantern
2 1/2"
Carbon Steel
Collated
300 sq ft
FMCTXCL-TX300TSVL
Trex
Transcend
Vintage Lantern
2 1/2"
Stainless Steel
Collated
100 lin ft
FMCTXCL-TX1LTSVLSS
Trex
Select
Madeira
2 1/2"
Carbon Steel
Loose
100 lin ft
FMCTX-TX1LFSLMD
Trex
Select
Madeira
2 1/2"
Carbon Steel
Loose
300 sq ft
FMCTX-TX300SLMD
Trex
Select
Pebble
2 1/2"
Carbon Steel
Loose
100 lin ft
FMCTX-TX1LFSLPB
Trex
Select
Pebble
2 1/2"
Carbon Steel
Loose
300 sq ft
FMCTX-TX300SLPB
Trex
Select
Saddle
2 1/2"
Carbon Steel
Loose
100 lin ft
FMCTX-TX1LFSLSD
Trex
Select
Saddle
2 1/2"
Carbon Steel
Loose
300 sq ft
FMCTX-TX300SLSD
Trex
Select
Winchester Gray
2 1/2"
Carbon Steel
Loose
100 lin ft
FMCTX-TX1LFSLWG
Trex
Select
Winchester Gray
2 1/2"
Carbon Steel
Loose
300 sq ft
FMCTX-TX300SLWG
Trex
Select
Woodland Brown
2 1/2"
Carbon Steel
Loose
100 lin ft
FMCTX-TX1LFSLWB
Trex
Select
Woodland Brown
2 1/2"
Carbon Steel
Loose
300 sq ft
FMCTX-TX300SLWB
Trex
Transcend
Gravel Path
2 1/2"
Carbon Steel
Loose
100 lin ft
FMCTX-TX1LFTSGP
Trex
Transcend
Gravel Path
2 1/2"
Carbon Steel
Loose
300 sq ft
FMCTX-TX300TSGP
Trex
Transcend
Havana Gold
2 1/2"
Carbon Steel
Loose
100 lin ft
FMCTX-TX1LFTSHG
Trex
Transcend
Havana Gold
2 1/2"
Carbon Steel
Loose
300 sq ft
FMCTX-TX300TSHG
Trex
Transcend
Island Mist
2 1/2"
Carbon Steel
Loose
100 lin ft
FMCTX-AZ100ARAI
Trex
Transcend
Island Mist
2 1/2"
Carbon Steel
Loose
300 sq ft
FMCTX-TX300TSLM
Trex
Transcend
Lava Rock
2 1/2"
Carbon Steel
Loose
100 lin ft
FMCTX-TX1LFTSLR
Trex
Transcend
Lava Rock
2 1/2"
Carbon Steel
Loose
300 sq ft
FMCTX-TX300TSLR
Trex
Transcend
Rope Swing
2 1/2"
Carbon Steel
Loose
100 lin ft
FMCTX-TX1LFTSRS
Trex
Transcend
Rope Swing
2 1/2"
Carbon Steel
Loose
300 sq ft
FMCTX-TX300TSRS
Trex
Transcend
Spiced Rum
2 1/2"
Carbon Steel
Loose
100 lin ft
FMCTX-TX1LFTSSR
Trex
Transcend
Spiced Rum
2 1/2"
Carbon Steel
Loose
300 sq ft
FMCTX-TX300TSSR
Trex
Transcend
Tiki Torch
2 1/2"
Carbon Steel
Loose
100 lin ft
FMCTX-TX1LFTSTT
Trex
Transcend
Tiki Torch
2 1/2"
Carbon Steel
Loose
300 sq ft
FMCTX-TX300TSTT
Trex
Transcend
Tree House
2 1/2"
Carbon Steel
Loose
100 lin ft
FMCTX-TX1LFTSTH
Trex
Transcend
Tree House
2 1/2"
Carbon Steel
Loose
300 sq ft
FMCTX-TX300TSTH
Trex
Transcend
Vintage Lantern
2 1/2"
Carbon Steel
Loose
100 lin ft
FMCTX-TX1LFTSVL
Trex
Transcend
Vintage Lantern
2 1/2"
Carbon Steel
Loose
300 sq ft
FMCTX-TX300TSVL