Collated Cortex for Decking
Cortex Hidden Fastening System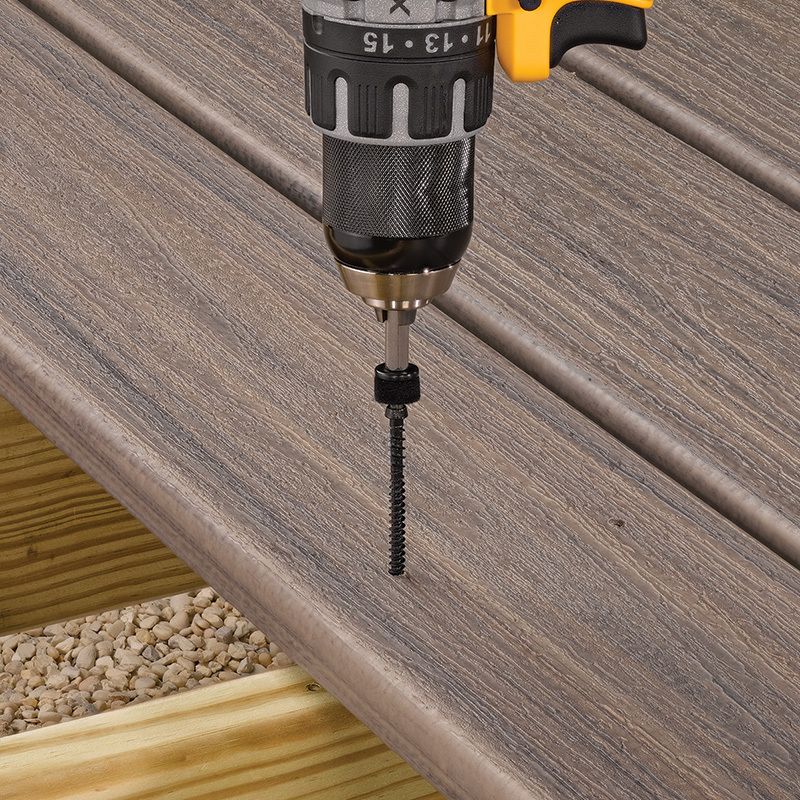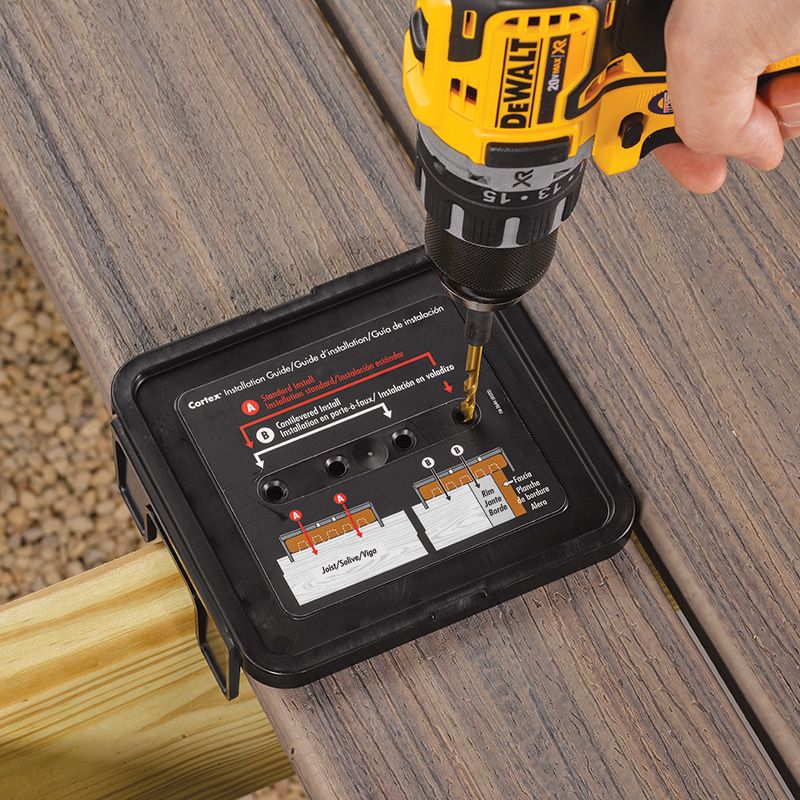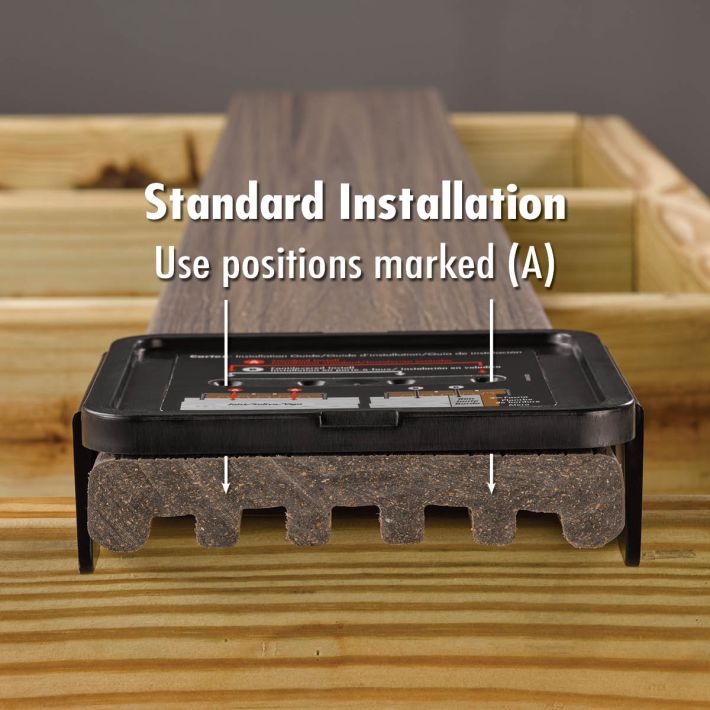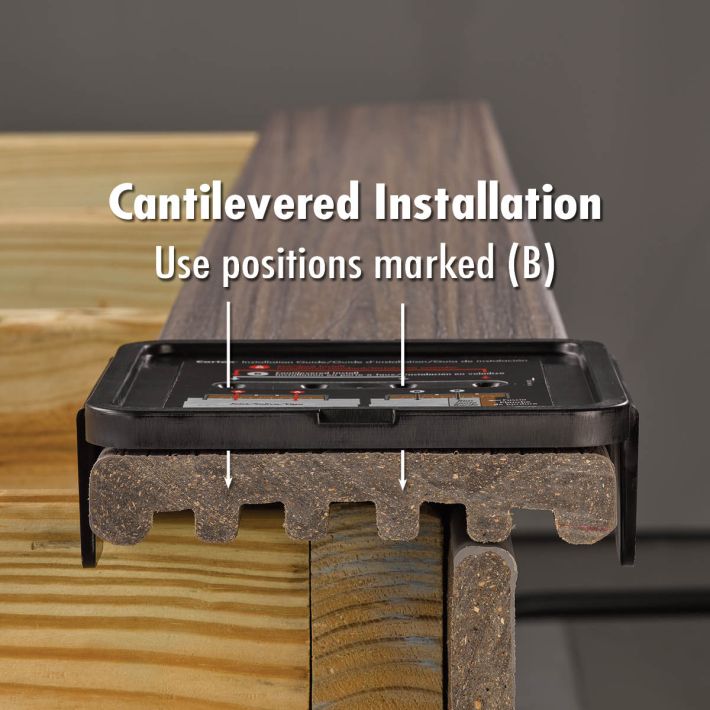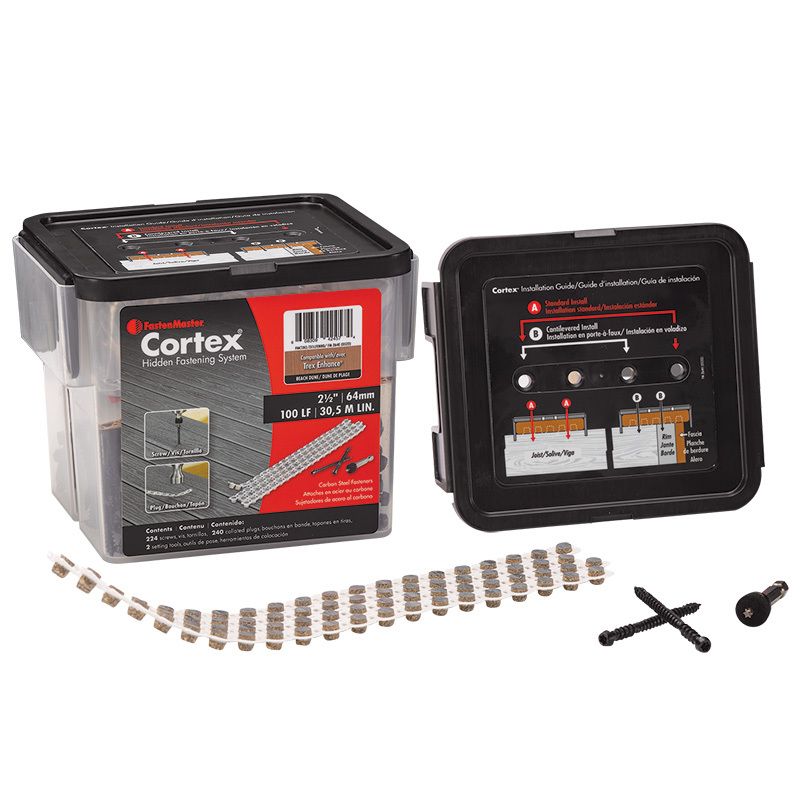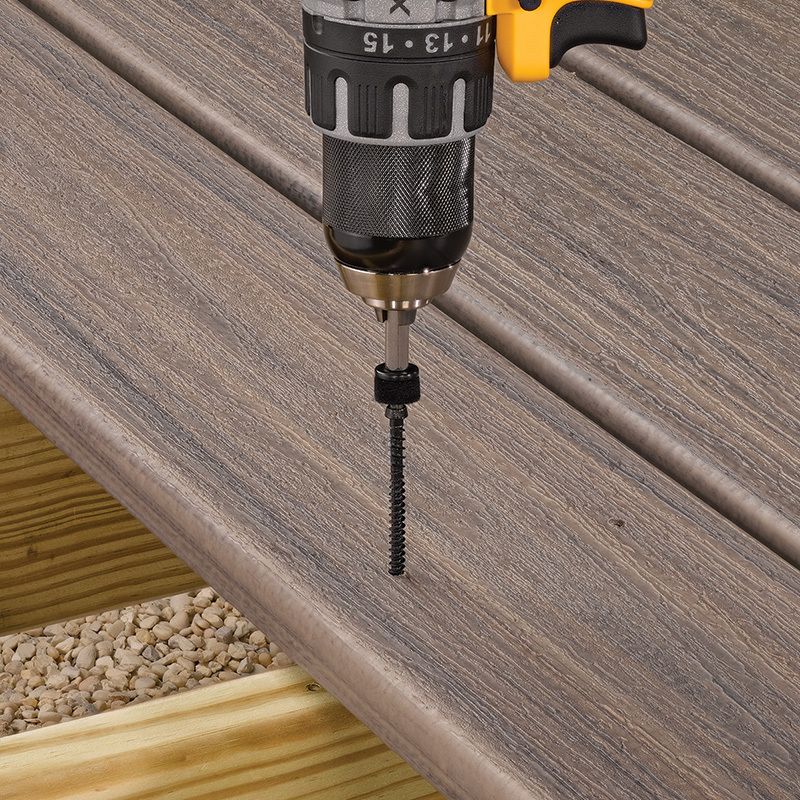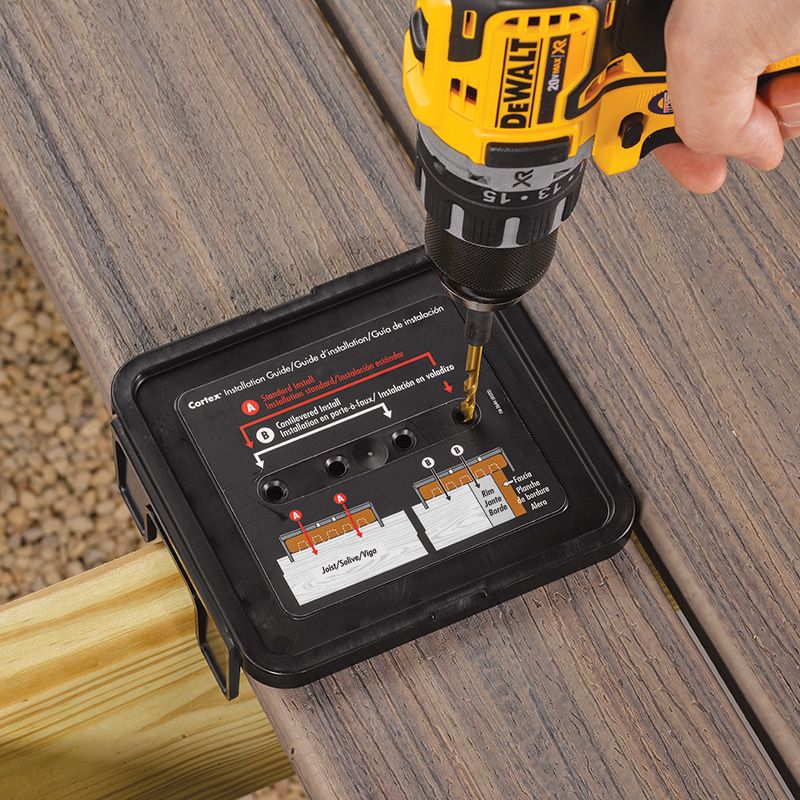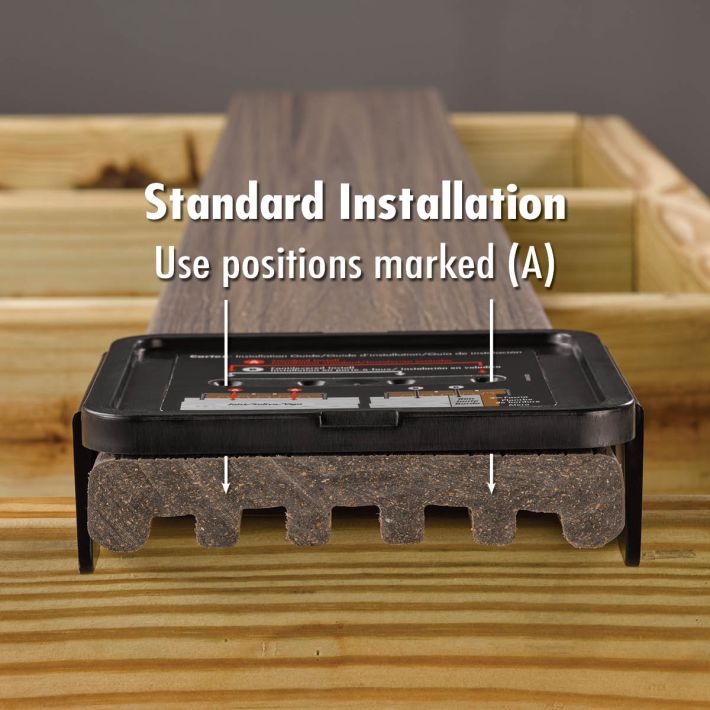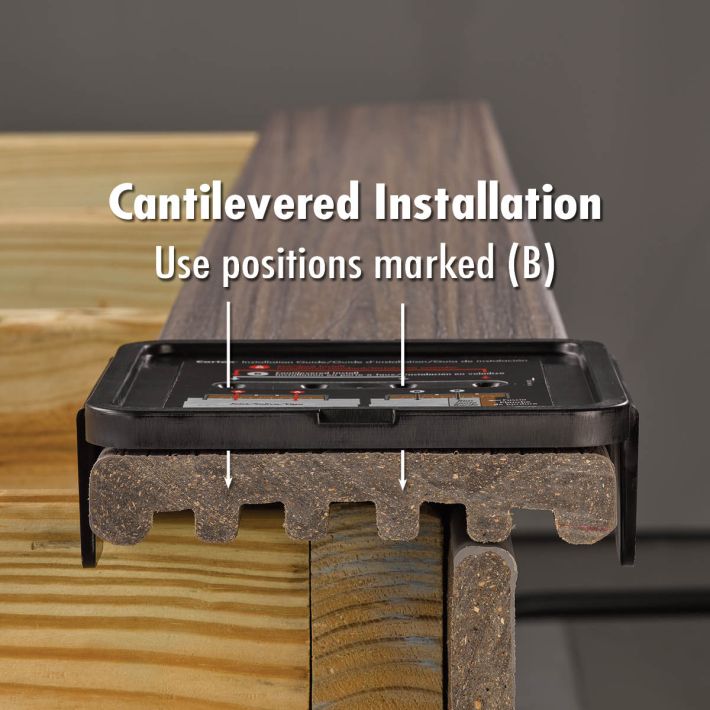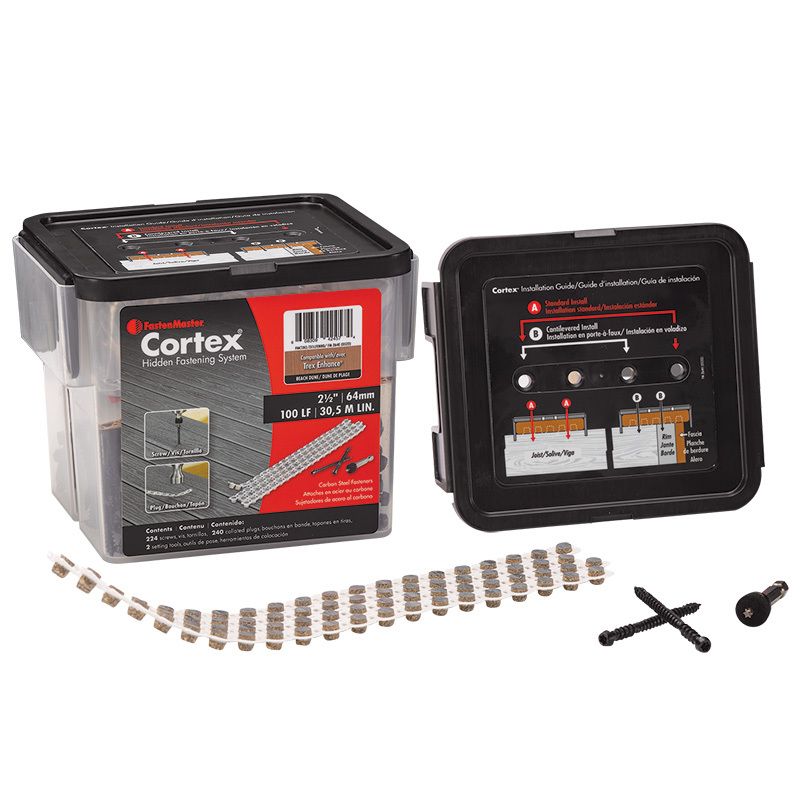 The Cortex Hidden Fastening System is the best way to hide fasteners in composite, capstock, and PVC decking boards – now 50% faster on a collated strip.
Collated Strips Save Time
Remove the need to fumble with buckets of loose plugs and get plugs set 50% faster with collated strips.
Pre-Aligned Plug Grains
Pre-aligning the plugs make getting a perfect match faster without slowing down.
Perfect Match, Clean Finish
Cortex plugs are made from the same material as market-leading deck boards, creating a 100% perfect match every time.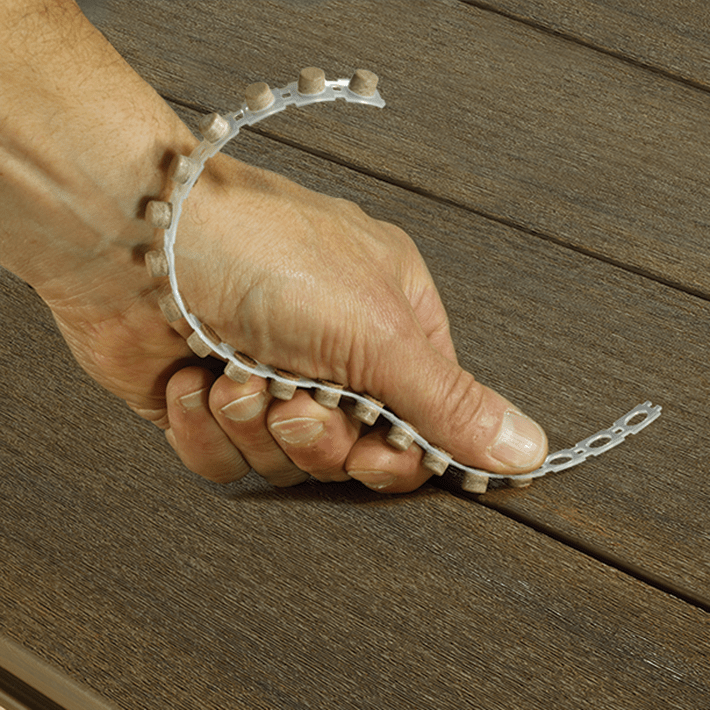 Amberwood

Beach Dune

Biscayne

Black Walnut

Boardwalk

Brownstone

Carmel

Clam Shell

Coastal Bluff

Coastline

Cypress

Dark Hickory

Driftwood Grey

English Walnut

Foggy Wharf

Gravel Path

Harbor Grey

Havana Gold
Island Mist

Jasper

Lava Rock

Madeira

Mahogany

Ocracoke

Onyx

Pebble

Rainer

Rocky Harbor

Rope Swing

Rosewood

Saddle

Saddle

Sand Castle

Silver Teak

Slate Gray

Spiced Rum

Teakwood

Tiki Torch

Toasted Sand

Tree House

Vintage Lantern

Weathered IPE

Weathered Teak

Whidbey

Winchester Grey

Woodland Brown
PERFECT COLOR MATCH
Since Cortex Plugs are made from the exact same material as the composite boards, the color and texture is matched perfectly every time.
Compatible with AZEK, Trex, & Wolf boards.
Part Numbers
| | | | | | | |
| --- | --- | --- | --- | --- | --- | --- |
| Manufacturer | Collection | Color | Length | Material | Packaging | SKU |
| AZEK | Harvest | Brownstone | 2 1/2" | Carbon Steel | 100 lin ft | CTC100SFBS |
| AZEK | Harvest | Brownstone | 2 1/2" | Carbon Steel | 300 sq ft | CTC300SFBS |
| AZEK | Harvest | Slate Gray | 2 1/2" | Carbon Steel | 100 lin ft | CTC100SFSG |
| AZEK | Harvest | Slate Gray | 2 1/2" | Carbon Steel | 300 sq ft | CTC300SFSG |
| AZEK | Landmark | Boardwalk | 2 1/2" | Carbon Steel | 100 lin ft | AZCTXCL-100LMBK |
| AZEK | Landmark | Boardwalk | 2 1/2" | Carbon Steel | 300 sq ft | AZCTXCL-300LMBK |
| AZEK | Vintage | Coastline | 2 1/2" | Carbon Steel | 100 lin ft | CTC100SFCS |
| AZEK | Vintage | Coastline | 2 1/2" | Carbon Steel | 300 sq ft | CTC300SFCS |
| AZEK | Vintage | Cypress | 2 1/2" | Carbon Steel | 100 lin ft | CTC100SFCY |
| AZEK | Vintage | Cypress | 2 1/2" | Carbon Steel | 300 sq ft | CTC300SFCY |
| AZEK | Vintage | Dark Hickory | 2 1/2" | Carbon Steel | 100 lin ft | CTC100SFDH |
| AZEK | Vintage | Dark Hickory | 2 1/2" | Carbon Steel | 300 sq ft | CTC300SFDH |
| AZEK | Vintage | English Walnut | 2 1/2" | Carbon Steel | 100 lin ft | CTC100SFEW |
| AZEK | Vintage | English Walnut | 2 1/2" | Carbon Steel | 300 sq ft | CTC300SFEW |
| AZEK | Vintage | Mahogany | 2 1/2" | Carbon Steel | 100 lin ft | CTC100SFMH |
| AZEK | Vintage | Mahogany | 2 1/2" | Carbon Steel | 300 sq ft | CTC300SFMH |
| AZEK | Vintage | Weathered Teak | 2 1/2" | Carbon Steel | 100 lin ft | CTC100SFWT |
| AZEK | Vintage | Weathered Teak | 2 1/2" | Carbon Steel | 300 sq ft | CTC300SFWT |
| Trex | Enhance | Foggy Wharf | 2 1/2" | Carbon Steel | 100 lin ft | FMCTXCL-TX1LFENFW |
| Trex | Enhance | Toasted Sand | 2 1/2" | Carbon Steel | 100 lin ft | FMCTXCL-TX1LFENTS |
| Trex | Enhance | Coastal Bluff | 2 1/2" | Carbon Steel | 100 lin ft | FMCTXCL-TX1LFENCB |
| Trex | Enhance | Rocky Harbor | 2 1/2" | Carbon Steel | 100 lin ft | FMCTXCL-TX1LFENRH |
| Trex | Enhance | Beach Dune | 2 1/2" | Carbon Steel | 100 lin ft | FMCTXCL-TX1LFENBD |
| Trex | Enhance | Clam Shell | 2 1/2" | Carbon Steel | 100 lin ft | FMCTXCL-TX1LFENCS |
| Trex | Enhance | Saddle | 2 1/2" | Carbon Steel | 100 lin ft | FMCTXCL-TX1LFENSD |
| Trex | Select | Madeira | 2 1/2" | Carbon Steel | 100 lin ft | FMCTXCL-TX1LFSLMD |
| Trex | Select | Madeira | 2 1/2" | Carbon Steel | 300 sq ft | FMCTXCL-TX300SLMD |
| Trex | Select | Pebble | 2 1/2" | Carbon Steel | 100 lin ft | FMCTXCL-TX1LFSLPB |
| Trex | Select | Pebble | 2 1/2" | Carbon Steel | 300 sq ft | FMCTXCL-TX300SLPB |
| Trex | Select | Saddle | 2 1/2" | Carbon Steel | 100 lin ft | FMCTXCL-TX1LFSLSD |
| Trex | Select | Saddle | 2 1/2" | Carbon Steel | 300 sq ft | FMCTXCL-TX300SLSD |
| Trex | Select | Winchester Gray | 2 1/2" | Carbon Steel | 100 lin ft | FMCTXCL-TX1LFSLWG |
| Trex | Select | Winchester Gray | 2 1/2" | Carbon Steel | 300 sq ft | FMCTXCL-TX300SLWG |
| Trex | Select | Woodland Brown | 2 1/2" | Carbon Steel | 100 lin ft | FMCTXCL-TX1LFSLWB |
| Trex | Select | Woodland Brown | 2 1/2" | Carbon Steel | 300 sq ft | FMCTXCL-TX300SLWB |
| Trex | Signature | Ocracoke | 2 1/2" | Carbon Steel | 100 lin ft | FMCTXCL-TX1LFSGCK |
| Trex | Signature | Ocracoke | 2 1/2" | Carbon Steel | 300 sq ft | FMCTXCL-TX300SGCK |
| Trex | Signature | Whidbey | 2 1/2" | Carbon Steel | 100 lin ft | FMCTXCL-TX1LFSGWD |
| Trex | Signature | Whidbey | 2 1/2" | Carbon Steel | 300 sq ft | FMCTXCL-TX300SGWD |
| Trex | Transcend | Carmel | 2 1/2" | Carbon Steel | 100 lin ft | FMCTXCL-TX1LFTSCM |
| Trex | Transcend | Carmel | 2 1/2" | Carbon Steel | 300 sq ft | FMCTXCL-TX300TSCM |
| Trex | Transcend | Gravel Path | 2 1/2" | Carbon Steel | 100 lin ft | FMCTXCL-TX1LFTSGP |
| Trex | Transcend | Gravel Path | 2 1/2" | Carbon Steel | 300 sq ft | FMCTXCL-TX300TSGP |
| Trex | Transcend | Havana Gold | 2 1/2" | Carbon Steel | 100 lin ft | FMCTXCL-TX1LFTSHG |
| Trex | Transcend | Havana Gold | 2 1/2" | Carbon Steel | 300 sq ft | FMCTXCL-TX300TSHG |
| Trex | Transcend | Island Mist | 2 1/2" | Carbon Steel | 100 lin ft | FMCTXCL-TX1LFTSLM |
| Trex | Transcend | Island Mist | 2 1/2" | Carbon Steel | 300 sq ft | FMCTXCL-TX300TSLM |
| Trex | Transcend | Jasper | 2 1/2" | Carbon Steel | 100 lin ft | FMCTXCL-TX1LFTSJP |
| Trex | Transcend | Jasper | 2 1/2" | Carbon Steel | 300 sq ft | FMCTXCL-TX300TSJP |
| Trex | Transcend | Lava Rock | 2 1/2" | Carbon Steel | 100 lin ft | FMCTXCL-TX1LFTSLR |
| Trex | Transcend | Lava Rock | 2 1/2" | Carbon Steel | 300 sq ft | FMCTXCL-TX300TSLR |
| Trex | Transcend | Rope Swing | 2 1/2" | Carbon Steel | 100 lin ft | FMCTXCL-TX1LFTSRS |
| Trex | Transcend | Rope Swing | 2 1/2" | Carbon Steel | 300 sq ft | FMCTXCL-TX300TSRS |
| Trex | Transcend | Spiced Rum | 2 1/2" | Carbon Steel | 100 lin ft | FMCTXCL-TX1LFTSSR |
| Trex | Transcend | Spiced Rum | 2 1/2" | Carbon Steel | 300 sq ft | FMCTXCL-TX300TSSR |
| Trex | Transcend | Tiki Torch | 2 1/2" | Carbon Steel | 100 lin ft | FMCTXCL-TX1LFTSTT |
| Trex | Transcend | Tiki Torch | 2 1/2" | Carbon Steel | 300 sq ft | FMCTXCL-TX300TSTT |
| Trex | Transcend | Tree House | 2 1/2" | Carbon Steel | 100 lin ft | FMCTXCL-TX1LFTSTH |
| Trex | Transcend | Tree House | 2 1/2" | Carbon Steel | 300 sq ft | FMCTXCL-TX300TSTH |
| Trex | Transcend | Vintage Lantern | 2 1/2" | Carbon Steel | 100 lin ft | FMCTXCL-TX1LFTSVL |
| Trex | Transcend | Vintage Lantern | 2 1/2" | Carbon Steel | 300 sq ft | FMCTXCL-TX300TSVL |
| WOLF | Serenity | Amberwood | 2 1/2" | Carbon Steel | 100 lin ft | WFCTXCL-100AWSS |
| WOLF | Serenity | Amberwood | 2 1/2" | Carbon Steel | 300 sq ft | WFCTXCL-300AWSS |
| WOLF | Serenity | Black Walnut | 2 1/2" | Carbon Steel | 100 lin ft | WFCTXCL-100BWSS |
| WOLF | Serenity | Black Walnut | 2 1/2" | Carbon Steel | 300 sq ft | WFCTXCL-300BWSS |
| WOLF | Serenity | Cypress | 2 1/2" | Stainless Steel | 100 lin ft | WFCTXCL-100CYSS |
| WOLF | Serenity | Cypress | 2 1/2" | Stainless Steel | 300 sq ft | WFCTXCL-300CYSS |
| WOLF | Serenity | Driftwood Grey | 2 1/2" | Carbon Steel | 100 lin ft | WFCTXCL-100DG |
| WOLF | Serenity | Driftwood Grey | 2 1/2" | Stainless Steel | 100 lin ft | WFCTXCL-100DGSS |
| WOLF | Serenity | Driftwood Grey | 2 1/2" | Carbon Steel | 300 sq ft | WFCTXCL-300DG |
| WOLF | Serenity | Driftwood Grey | 2 1/2" | Stainless Steel | 300 sq ft | WFCTXCL-300DGSS |
| WOLF | Serenity | Harbor Grey | 2 1/2" | Carbon Steel | 100 lin ft | WFCTXCL-100HG |
| WOLF | Serenity | Harbor Grey | 2 1/2" | Stainless Steel | 100 lin ft | WFCTXCL-100HGSS |
| WOLF | Serenity | Harbor Grey | 2 1/2" | Carbon Steel | 300 sq ft | WFCTXCL-300HG |
| WOLF | Serenity | Harbor Grey | 2 1/2" | Stainless Steel | 300 sq ft | WFCTXCL-300HGSS |
| WOLF | Serenity | Onyx | 2 1/2" | Stainless Steel | 100 lin ft | WFCTXCL-100NXSS |
| WOLF | Serenity | Onyx | 2 1/2" | Stainless Steel | 300 sq ft | WFCTXCL-300NXSS |
| WOLF | Serenity | Rosewood | 2 1/2" | Stainless Steel | 100 lin ft | WFCTXCL-100RWSS |
| WOLF | Serenity | Rosewood | 2 1/2" | Stainless Steel | 300 sq ft | WFCTXCL-300RWSS |
| WOLF | Serenity | Sand Castle | 2 1/2" | Carbon Steel | 100 lin ft | WFCTXCL-100SC |
| WOLF | Serenity | Sand Castle | 2 1/2" | Stainless Steel | 100 lin ft | WFCTXCL-100SCSS |
| WOLF | Serenity | Sand Castle | 2 1/2" | Carbon Steel | 300 sq ft | WFCTXCL-300SC |
| WOLF | Serenity | Sand Castle | 2 1/2" | Stainless Steel | 300 sq ft | WFCTXCL-300SCSS |
| WOLF | Serenity | Silver Teak | 2 1/2" | Stainless Steel | 100 lin ft | WFCTXCL-100STSS |
| WOLF | Serenity | Silver Teak | 2 1/2" | Stainless Steel | 300 sq ft | WFCTXCL-300STSS |
| WOLF | Serenity | Teakwood | 2 1/2" | Stainless Steel | 100 lin ft | WFCTXCL-100TWSS |
| WOLF | Serenity | Teakwood | 2 1/2" | Stainless Steel | 300 sq ft | WFCTXCL-300TWSS |
| WOLF | Serenity | Weathered IPE | 2 1/2" | Carbon Steel | 100 lin ft | WFCTXCL-100WP |
| WOLF | Serenity | Weathered IPE | 2 1/2" | Stainless Steel | 100 lin ft | WFCTXCL-100WPSS |
| WOLF | Serenity | Weathered IPE | 2 1/2" | Carbon Steel | 300 sq ft | WFCTXCL-300WP |
| WOLF | Serenity | Weathered IPE | 2 1/2" | Stainless Steel | 300 sq ft | WFCTXCL-300WPSS |