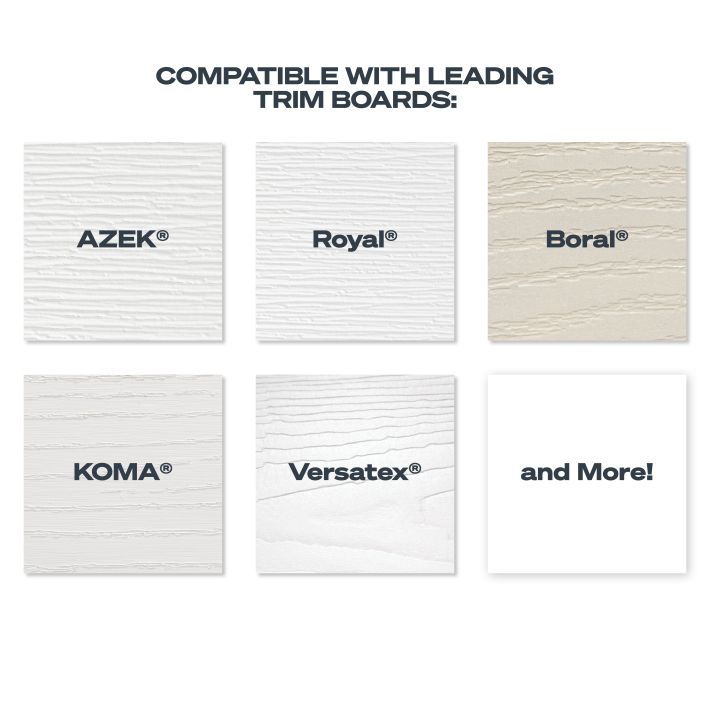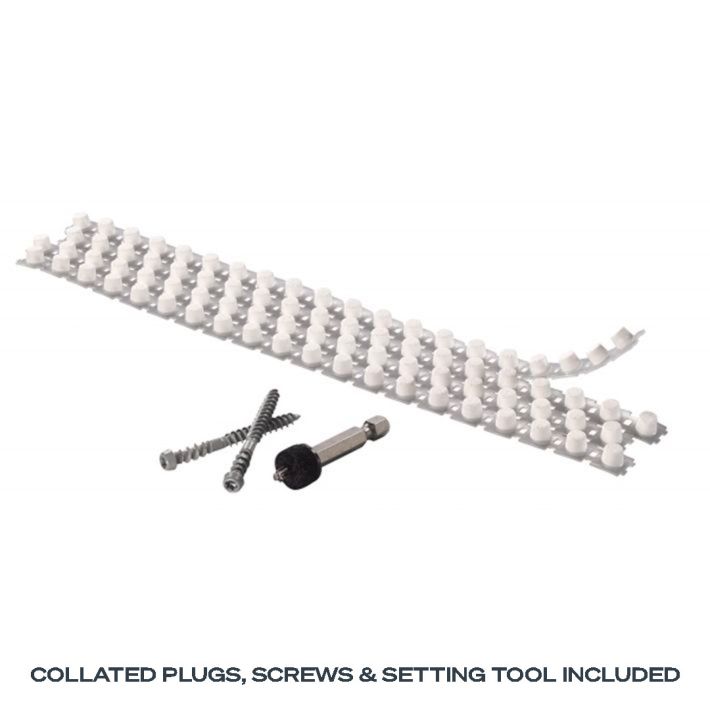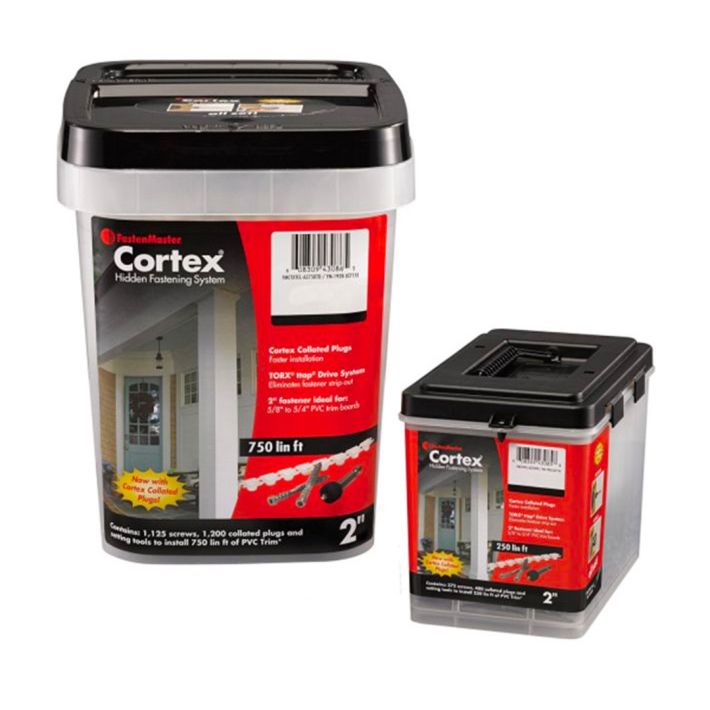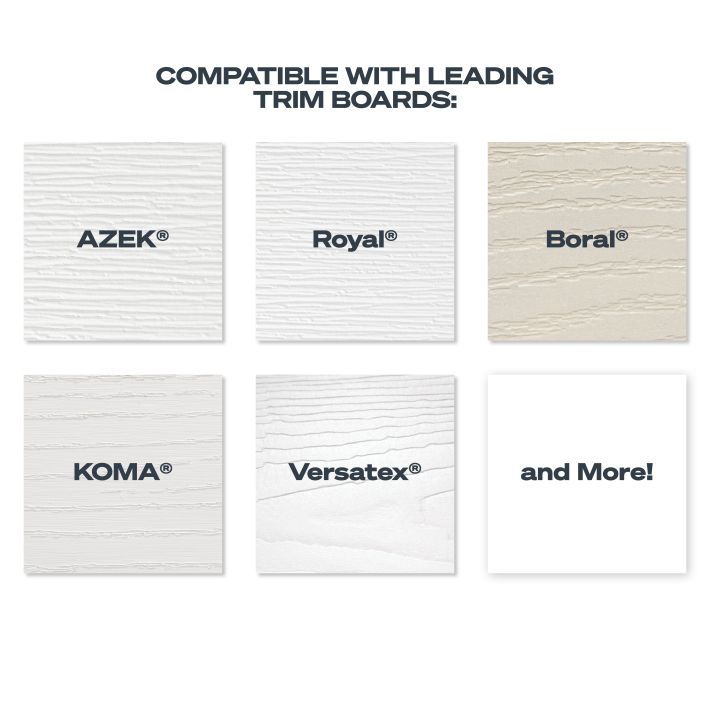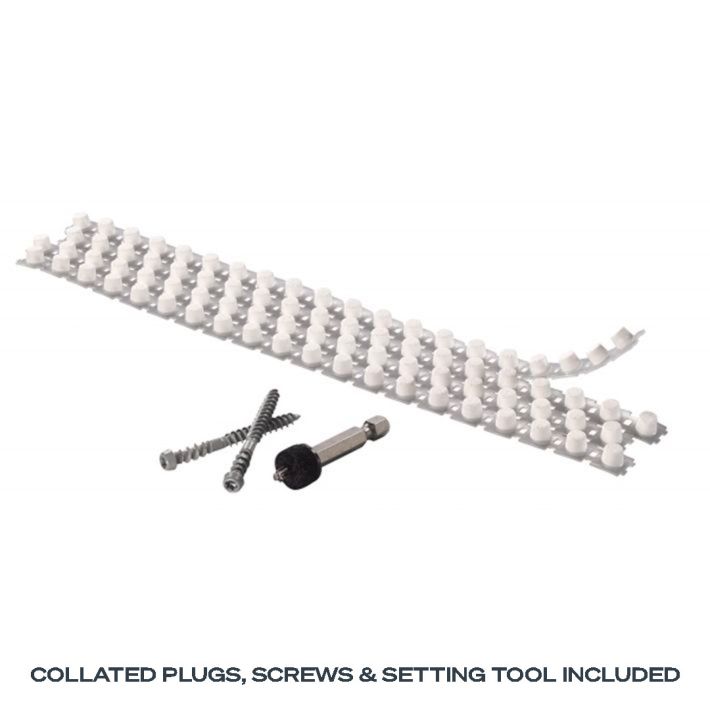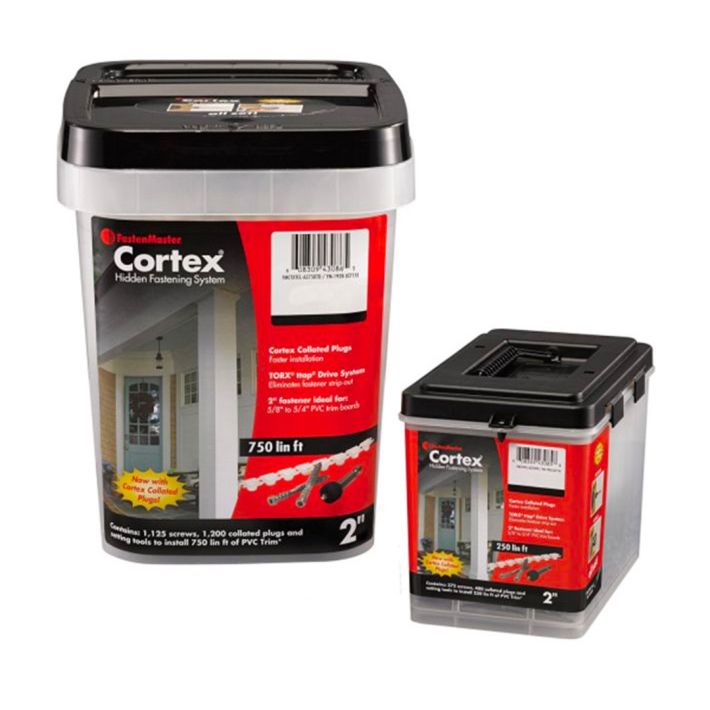 The FastenMaster Cortex Hidden Fastening System is the fastest, easiest way to hide fastener heads when installing PVC Trim.
Collated Cortex for Trim
Hidden Fastening System
Available for AZEK®, Royal®, Boral®, KOMA®, Versatex & More!

Perfect Match, Clean Finish
Cortex plugs are made from the same material as market-leading trim boards, creating a 100% perfect match every time.

Pre-Aligned Collated Strips
Cortex plugs come on a collated strip with pre-aligned grains, so there's no more need to fumble around with loose plugs.

TORX® ttap® Drive System
TORX® ttap® provides a superior bit engagement for a stable, wobble-free installation experience.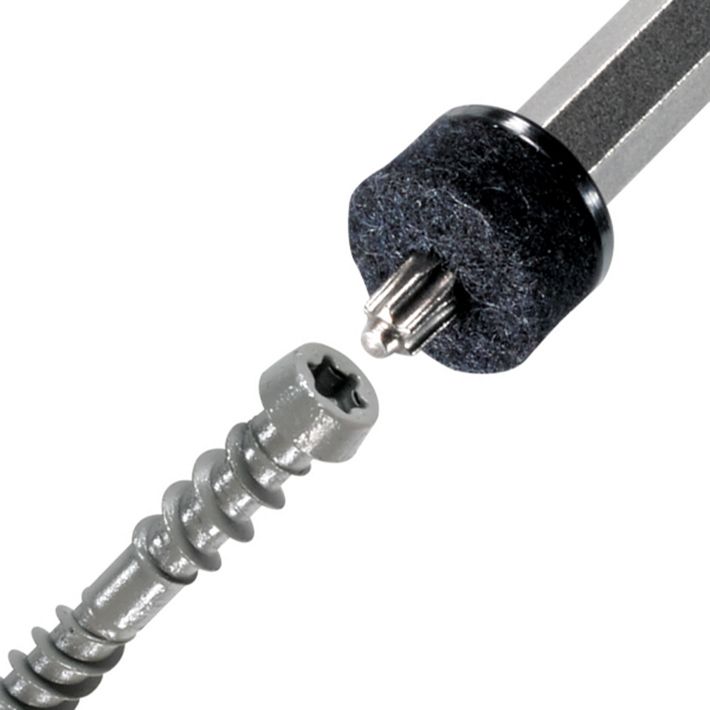 Part Numbers
Only FastenMaster brand Cortex listed. Also available for AZEK®. Contact the board manufacturer or your Local Dealer for more information.
Manufacturer
Color
Length
Packaging
Collated vs. Loose
SKU
Royal
Carriage Red
2 3/4"
250 LN FT (375 screws / 400 plugs)
Collated
FMCTXTCL234-C2CR2
Royal
Chestnut
2 3/4"
250 LN FT (375 screws / 400 plugs)
Collated
FMCTXTCL234-C2CN
Royal
Chocolate
2 3/4"
250 LN FT (375 screws / 400 plugs)
Collated
FMCTXTCL234-C2CH
Royal
Cotton
2 3/4"
250 LN FT (375 screws / 400 plugs)
Collated
FMCTXTCL234-C2CT
Royal
Frost
2 3/4"
250 LN FT (375 screws / 400 plugs)
Collated
FMCTXTCL234-C2FT2
Royal
Grain
2 3/4"
250 LN FT (375 screws / 400 plugs)
Collated
FMCTXTCL234-RY2GN
Royal
Grain
2 3/4"
750 LN FT (1125 screws / 1200 plugs)
Collated
FMCTXTCL234-RY7GN
Royal
Grain
2"
250 LN FT (375 screws / 400 plugs)
Collated
FMCTXTCL-RY250GN
Royal
Grain
2"
750 LN FT (1125 screws / 1200 plugs)
Collated
FMCTXTCL-RY750GN
Royal
Grove
2 3/4"
250 LN FT (375 screws / 400 plugs)
Collated
FMCTXTCL234-C2GV
Royal
Latte
2 3/4"
250 LN FT (375 screws / 400 plugs)
Collated
FMCTXTCL234-C2LT
Royal
Oceana
2 3/4"
250 LN FT (375 screws / 400 plugs
Collated
FMCTXTCL234-C2NA2
Royal
Pearl
2 3/4"
250 LN FT (375 screws / 400 plugs)
Collated
FMCTXTCL234-C2PL
Royal
Pine Brook
2 3/4"
250 LN FT (375 screws / 400 plugs)
Collated
FMCTXTCL234-C2PB2
Royal
Pottery
2 3/4"
250 LN FT (375 screws / 400 plugs)
Collated
FMCTXTCL234-C2PT
Royal
River Rock
2 3/4"
250 LN FT (375 screws / 400 plugs)
Collated
FMCTXTCL234-C2RR
Royal
Shale
2 3/4"
250 LN FT (375 screws / 400 plugs)
Collated
FMCTXTCL234-C2SL
Royal
Smooth
2 3/4"
250 LN FT (375 screws / 400 plugs)
Collated
FMCTXTCL234-RY2SM
Royal
Smooth
2 3/4"
750 LN FT (1125 screws / 1200 plugs)
Collated
FMCTXTCL234-RY7SM
Royal
Smooth
2"
250 LN FT (375 screws / 400 plugs)
Collated
FMCTXTCL-RY250SM
Royal
Smooth
2"
750 LN FT (1125 screws / 1200 plugs)
Collated
FMCTXTCL-RY750SM
Royal
Willow
2 3/4"
250 LN FT (375 screws / 400 plugs)
Collated
FMCTXTCL234-C2WL
Royal
Wrought Iron
2 3/4"
250 LN FT (375 screws / 400 plugs)
Collated
FMCTXTCL234-C2WR
Versatex
Smooth
2 3/4"
250 LN FT (375 screws / 400 plugs)
Collated
FMCTXTCL234-VT2SM
Versatex
Smooth
2 3/4"
750 LN FT (1125 screws / 1200 plugs)
Collated
FMCTXTCL234-VT7SM
Versatex
Smooth
2"
250 LN FT (375 screws / 400 plugs)
Collated
FMCTXTCL-VT250SM
Versatex
Smooth
2"
750 LN FT (1125 screws / 1200 plugs)
Collated
FMCTXTCL-VT750SM
Versatex
Timber Ridge
2 3/4"
250 LN FT (375 screws / 400 plugs)
Collated
FMCTXTCL234-VT2TR
Versatex
Timber Ridge
2 3/4"
750 LN FT (1125 screws / 1200 plugs)
Collated
FMCTXTCL234-VT7TR
Versatex
Timber Ridge
2"
250 LN FT (375 screws / 400 plugs)
Collated
FMCTXTCL-VT250TR
Versatex
Timber Ridge
2"
750 LN FT (1125 screws / 1200 plugs)
Collated
FMCTXTCL-VT750TR
Boral
Grain
2 3/4"
250 LF (375 screws / 400 plugs)
Loose
FMCTXT234-BR2TEGN
Boral
Smooth
2 3/4"
250 LF (375 screws / 400 loose plugs)
Loose
FMCTXT234-BR2TESM
Boral
Grain
2 3/4"
50 LF (75 screws / 100 loose plugs)
Loose
FMCTXT234-BR50TEGN
Boral
Smooth
2 3/4"
50 LF (75 screws / 100 loose plugs)
Loose
FMCTXT234-BR50TESM
Boral
Grain
2 3/4"
750 LF (1125 screws / 1200 loose plugs)
Loose
FMCTXT234-BR7TEGN
Boral
Smooth
2 3/4"
750 LF (1125 screws / 1200 loose plugs)
Loose
FMCTXT234-BR7TESM
Boral
Grain
2"
250 LF (375 screws / 400 loose plugs)
Loose
FMCTXT-BR250TEGN
Boral
Smooth
2"
250 LF (375 screws / 400 loose plugs)
Loose
FMCTXT-BR250TESM
Boral
Grain
2"
50 LF (75 screws / 100 loose plugs)
Loose
FMCTXT-BR50TEGN
Boral
Smooth
2"
50 LF (75 screws / 100 loose plugs)
Loose
FMCTXT-BR50TESM
Boral
Grain
2"
750 LF (1125 screws / 1200 loose plugs)
Loose
FMCTXT-BR750TEGN
Boral
Smooth
2"
750 LF (1125 screws / 1200 loose plugs)
Loose
FMCTXT-BR750TESM
Koma
Smooth
2 3/4"
250 LN FT (375 screws / 400 plugs)
Loose
FMCTXT234-KM250FSM
Koma
Smooth
2 3/4"
50 LN FT (75 screws / 100 plugs)
Loose
FMCTXT234-KM50FSM
Koma
Smooth
2 3/4"
750 LN FT (1125 screws / 1200 plugs)
Loose
FMCTXT234-KM750FSM
Koma
Smooth
2"
250 LN FT (375 screws / 400 plugs)
Loose
FMCTXT-KM50FFSM
Koma
Smooth
2"
750 LN FT (1125 screws / 1200 plugs)
Loose
FMCTXT-KM750FFSM
Koma
Smooth
2 3/4"
250 LN FT (375 screws / 400 plugs)
Loose
FMCTXT234-KM250SM
Koma
Smooth
2 3/4"
750 LN FT (1125 screws / 1200 plugs)
Loose
FMCTXT234-KM750SM
Koma
Smooth
2 3/4"
250 LF (375 screws / 400 plugs)
Loose
FMCTXT-KM250SM
Koma
Smooth
2"
50 LN FT (75 screws / 100 plugs)
Loose
FMCTXT-KM50SM
Koma
Smooth
2 3/4"
750 LF (1125 screws / 1200 plugs)
Loose
FMCTXT-KM750SM
Royal
Grain
2 3/4"
50 LF (75 screws / 100 plugs)
Loose
FMCTXT234-RY50GN
Royal
Grain
2"
50 LF (75 screws / 100 plugs)
Loose
FMCTXT-RY50GN
Royal
Smooth
2 3/4"
50 LF (75 screws / 100 plugs)
Loose
FMCTXT234-RY50SM
Royal
Smooth
2"
50 LF (75 screws / 100 plugs)
Loose
FMCTXT-RY50SM
Versatex
Traditional
2 3/4"
250 LF (375 screws / 400 plugs)
Loose
FMCTXT234-VT250TR
Versatex
Traditional
2 3/4"
50 LF (75 screws / 100 plugs)
Loose
FMCTXT234-VT50TR
Versatex
Traditional
2 3/4"
750 LF (1125 screws / 1200 plugs)
Loose
FMCTXT234-VT750TR
Versatex
Traditional
2"
250 LF (375 screws / 400 plugs)
Loose
FMCTXT-VT250TR
Versatex
Traditional
2"
50 LF (75 screws / 100 plugs)
Loose
FMCTXT-VT50TR
Versatex
Traditional
2"
750 LF (1125 screws / 1200 plugs)
Loose
FMCTXT-VT750TR
Versatex
Smooth
2 3/4"
250 LF (375 screws / 400 plugs)
Loose
FMCTXT234-VT250SM
Versatex
Smooth
2 3/4"
50 LF (75 screws / 100 plugs)
Loose
FMCTXT234-VT50SM
Versatex
Smooth
2 3/4"
750 LF (1125 screws / 1200 plugs)
Loose
FMCTXT234-VT750SM
Versatex
Smooth
2"
250 LF (375 screws / 400 plugs)
Loose
FMCTXT-VT250SM
Versatex
Smooth
2"
50 LF (75 screws / 100 plugs)
Loose
FMCTXT-VT50SM
Versatex
Smooth
2"
750 LF (1125 screws / 1200 plugs)
Loose
FMCTXT-VT750SM