Collated Cortex for Trim
Hidden Fastening System
Collated Cortex Hidden Fastening System for Trim – everything you love about Cortex, now 50% Faster!
Speed of Collated Strips
FastenMaster Cortex plugs are now available on a collated strip. This minimizes handling and saves valuable time on the jobsite.
TORX ttap Drive System
This system is almost impossible to strip-out and the fastener is easily removed. The stability button keeps the fastener straight through installation.
Stronger Setting Tool
Optimized for extreme pro contractor use. Stronger bit material and industrial grade felt will enable you to install 350 fasteners on one Cortex Setting Tool.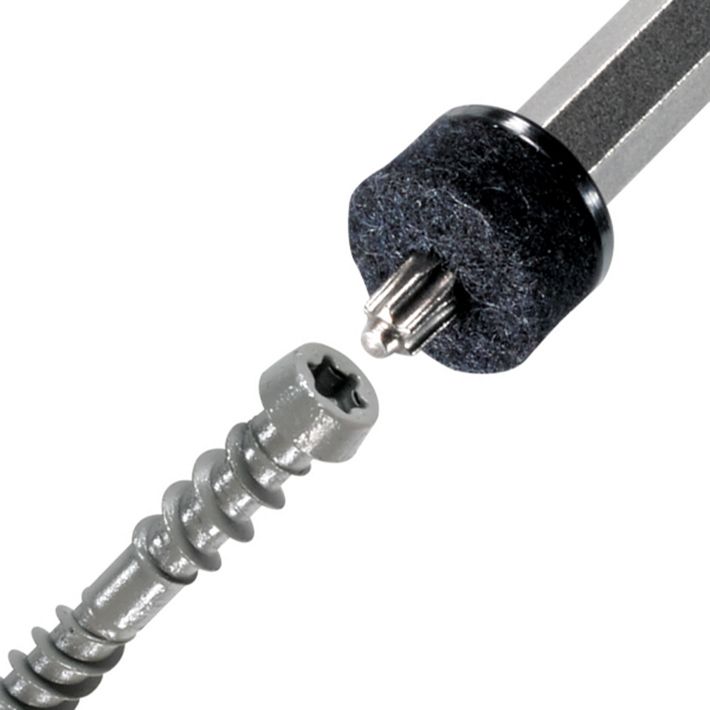 Part Numbers
| | | | | |
| --- | --- | --- | --- | --- |
| Manufacturer | Color | Length | Packaging | SKU |
| AZEK | Frontier | 2 3/4" | 250 LN FT (375 screws / 400 plugs) | FMCTXTCL234-AZ2FT |
| AZEK | Frontier | 2 3/4" | 750 LN FT (1125 screws / 1200 plugs) | FMCTXTCL234-AZ7FT |
| AZEK | Frontier | 2" | 250 LN FT (375 screws / 400 plugs) | FMCTXTCL-AZ250FT |
| AZEK | Frontier | 2" | 750 LN FT (1125 screws / 1200 plugs) | FMCTXTCL-AZ750FT |
| AZEK | Traditional | 2 3/4" | 250 LN FT (375 screws / 400 plugs) | FMCTXTCL234-AZ2TD |
| AZEK | Traditional | 2 3/4" | 750 LN FT (1125 screws / 1200 plugs) | FMCTXTCL234-AZ7TD |
| AZEK | Traditional | 2" | 250 LN FT (375 screws / 400 plugs) | FMCTXTCL-AZ250TD |
| AZEK | Traditional | 2" | 750 LN FT (1125 screws / 1200 plugs) | FMCTXTCL-AZ750TD |
| Royal | Carriage Red | 2 3/4" | 250 LN FT (375 screws / 400 plugs) | FMCTXTCL234-C2CR2 |
| Royal | Chestnut | 2 3/4" | 250 LN FT (375 screws / 400 plugs) | FMCTXTCL234-C2CN |
| Royal | Chocolate | 2 3/4" | 250 LN FT (375 screws / 400 plugs) | FMCTXTCL234-C2CH |
| Royal | Cotton | 2 3/4" | 250 LN FT (375 screws / 400 plugs) | FMCTXTCL234-C2CT |
| Royal | Frost | 2 3/4" | 250 LN FT (375 screws / 400 plugs) | FMCTXTCL234-C2FT2 |
| Royal | Grain | 2 3/4" | 250 LN FT (375 screws / 400 plugs) | FMCTXTCL234-RY2GN |
| Royal | Grain | 2 3/4" | 750 LN FT (1125 screws / 1200 plugs) | FMCTXTCL234-RY7GN |
| Royal | Grain | 2" | 250 LN FT (375 screws / 400 plugs) | FMCTXTCL-RY250GN |
| Royal | Grain | 2" | 750 LN FT (1125 screws / 1200 plugs) | FMCTXTCL-RY750GN |
| Royal | Grove | 2 3/4" | 250 LN FT (375 screws / 400 plugs) | FMCTXTCL234-C2GV |
| Royal | Latte | 2 3/4" | 250 LN FT (375 screws / 400 plugs) | FMCTXTCL234-C2LT |
| Royal | Oceana | 2 3/4" | 250 LN FT (375 screws / 400 plugs | FMCTXTCL234-C2NA2 |
| Royal | Pearl | 2 3/4" | 250 LN FT (375 screws / 400 plugs) | FMCTXTCL234-C2PL |
| Royal | Pine Brook | 2 3/4" | 250 LN FT (375 screws / 400 plugs) | FMCTXTCL234-C2PB2 |
| Royal | Pottery | 2 3/4" | 250 LN FT (375 screws / 400 plugs) | FMCTXTCL234-C2PT |
| Royal | River Rock | 2 3/4" | 250 LN FT (375 screws / 400 plugs) | FMCTXTCL234-C2RR |
| Royal | Shale | 2 3/4" | 250 LN FT (375 screws / 400 plugs) | FMCTXTCL234-C2SL |
| Royal | Smooth | 2 3/4" | 250 LN FT (375 screws / 400 plugs) | FMCTXTCL234-RY2SM |
| Royal | Smooth | 2 3/4" | 750 LN FT (1125 screws / 1200 plugs) | FMCTXTCL234-RY7SM |
| Royal | Smooth | 2" | 250 LN FT (375 screws / 400 plugs) | FMCTXTCL-RY250SM |
| Royal | Smooth | 2" | 750 LN FT (1125 screws / 1200 plugs) | FMCTXTCL-RY750SM |
| Royal | Willow | 2 3/4" | 250 LN FT (375 screws / 400 plugs) | FMCTXTCL234-C2WL |
| Royal | Wrought Iron | 2 3/4" | 250 LN FT (375 screws / 400 plugs) | FMCTXTCL234-C2WR |
| Versatex | Smooth | 2 3/4" | 250 LN FT (375 screws / 400 plugs) | FMCTXTCL234-VT2SM |
| Versatex | Smooth | 2 3/4" | 750 LN FT (1125 screws / 1200 plugs) | FMCTXTCL234-VT7SM |
| Versatex | Smooth | 2" | 250 LN FT (375 screws / 400 plugs) | FMCTXTCL-VT250SM |
| Versatex | Smooth | 2" | 750 LN FT (1125 screws / 1200 plugs) | FMCTXTCL-VT750SM |
| Versatex | Timber Ridge | 2 3/4" | 250 LN FT (375 screws / 400 plugs) | FMCTXTCL234-VT2TR |
| Versatex | Timber Ridge | 2 3/4" | 750 LN FT (1125 screws / 1200 plugs) | FMCTXTCL234-VT7TR |
| Versatex | Timber Ridge | 2" | 250 LN FT (375 screws / 400 plugs) | FMCTXTCL-VT250TR |
| Versatex | Timber Ridge | 2" | 750 LN FT (1125 screws / 1200 plugs) | FMCTXTCL-VT750TR |