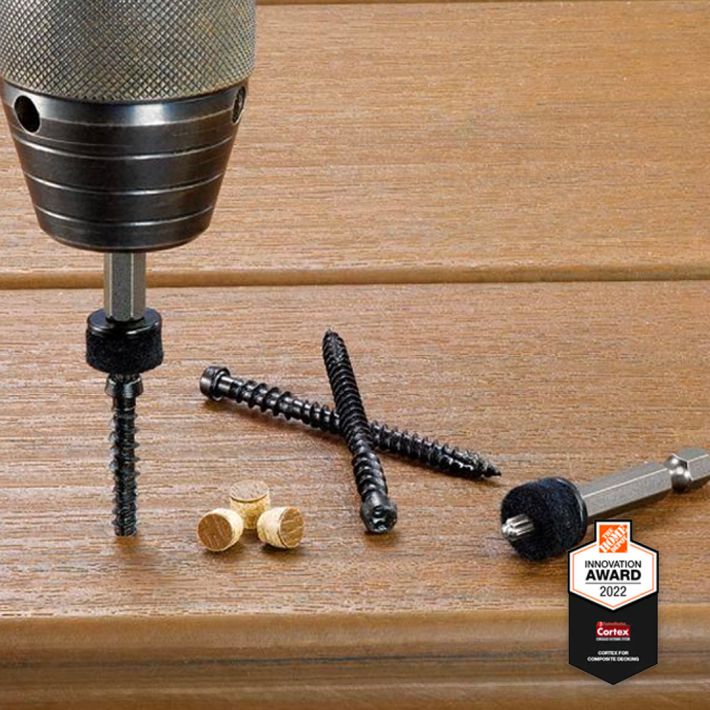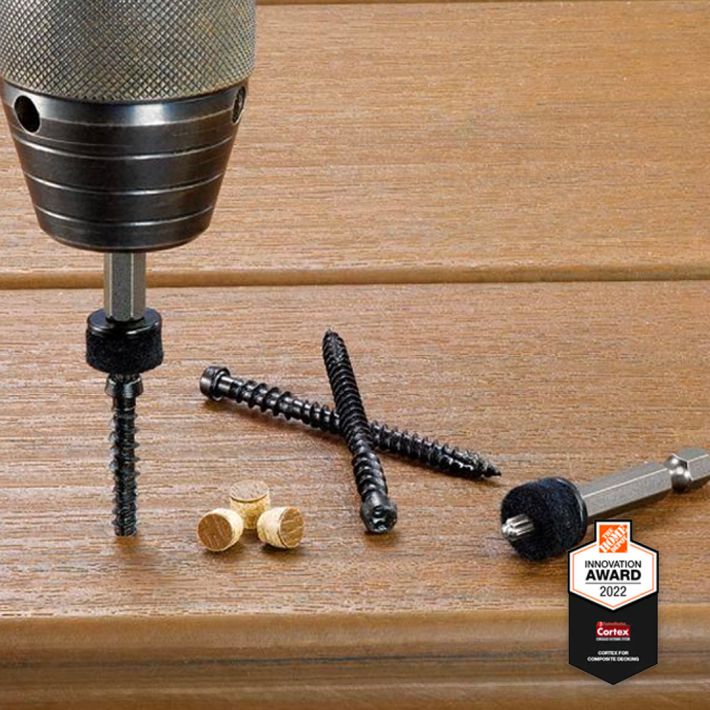 The Cortex Hidden Fastening System is the fastest, easiest way to hide the heads of your deck screws across the entire deck, first and last board, perimeter, and stairs.
Cortex for Decking
Hidden Fastening System
TORX ttap Drive System
This system is almost impossible to strip-out. In addition, the stability button keeps the fastener straight through installation.
Stronger Setting Tool
Optimized for extreme pro contractor use. Stronger bit material and industrial grade felt will enable you to install 350 fasteners on one Cortex Setting Tool.
Perfect Match, Clean Finish
Cortex plugs are made from the same material as market-leading deck boards, creating a 100% perfect match every time.
Decking Color Match Tool
Just enter your brand of decking material and color you're working with and we'll provide you with the right FastenMaster products that perfectly match your needs
Gravel Path

Havana Gold

Island Mist

Lava Rock

Madeira

Pebble

Rope Swing

Saddle

Spiced Rum

Tiki Torch

Tree House

Vintage Lantern

Winchester Grey

Woodland Brown

Reclaimed Chestnut
PERFECT COLOR MATCH
Since Cortex Plugs are made from the exact same material as the composite boards, the color and texture is matched perfectly every time.
Compatible with TREX boards.
Part Numbers
| | | | | | |
| --- | --- | --- | --- | --- | --- |
| Manufacturer | Collection | Color | Length | Packaging | SKU |
| Trex | Select | Madeira | 2 1/2" | 100 lin ft | FMCTX-TX1LFSLMD |
| Trex | Select | Madeira | 2 1/2" | 300 sq ft | FMCTX-TX300SLMD |
| Trex | Select | Pebble | 2 1/2" | 100 lin ft | FMCTX-TX1LFSLPB |
| Trex | Select | Pebble | 2 1/2" | 300 sq ft | FMCTX-TX300SLPB |
| Trex | Select | Saddle | 2 1/2" | 100 lin ft | FMCTX-TX1LFSLSD |
| Trex | Select | Saddle | 2 1/2" | 300 sq ft | FMCTX-TX300SLSD |
| Trex | Select | Winchester Gray | 2 1/2" | 100 lin ft | FMCTX-TX1LFSLWG |
| Trex | Select | Winchester Gray | 2 1/2" | 300 sq ft | FMCTX-TX300SLWG |
| Trex | Select | Woodland Brown | 2 1/2" | 100 lin ft | FMCTX-TX1LFSLWB |
| Trex | Select | Woodland Brown | 2 1/2" | 300 sq ft | FMCTX-TX300SLWB |
| Trex | Transcend | Gravel Path | 2 1/2" | 100 lin ft | FMCTX-TX1LFTSGP |
| Trex | Transcend | Gravel Path | 2 1/2" | 300 sq ft | FMCTX-TX300TSGP |
| Trex | Transcend | Havana Gold | 2 1/2" | 100 lin ft | FMCTX-TX1LFTSHG |
| Trex | Transcend | Havana Gold | 2 1/2" | 300 sq ft | FMCTX-TX300TSHG |
| Trex | Transcend | Island Mist | 2 1/2" | 100 lin ft | FMCTX-AZ100ARAI |
| Trex | Transcend | Island Mist | 2 1/2" | 300 sq ft | FMCTX-TX300TSLM |
| Trex | Transcend | Lava Rock | 2 1/2" | 100 lin ft | FMCTX-TX1LFTSLR |
| Trex | Transcend | Lava Rock | 2 1/2" | 300 sq ft | FMCTX-TX300TSLR |
| Trex | Transcend | Rope Swing | 2 1/2" | 100 lin ft | FMCTX-TX1LFTSRS |
| Trex | Transcend | Rope Swing | 2 1/2" | 300 sq ft | FMCTX-TX300TSRS |
| Trex | Transcend | Spiced Rum | 2 1/2" | 100 lin ft | FMCTX-TX1LFTSSR |
| Trex | Transcend | Spiced Rum | 2 1/2" | 300 sq ft | FMCTX-TX300TSSR |
| Trex | Transcend | Tiki Torch | 2 1/2" | 100 lin ft | FMCTX-TX1LFTSTT |
| Trex | Transcend | Tiki Torch | 2 1/2" | 300 sq ft | FMCTX-TX300TSTT |
| Trex | Transcend | Tree House | 2 1/2" | 100 lin ft | FMCTX-TX1LFTSTH |
| Trex | Transcend | Tree House | 2 1/2" | 300 sq ft | FMCTX-TX300TSTH |
| Trex | Transcend | Vintage Lantern | 2 1/2" | 100 lin ft | FMCTX-TX1LFTSVL |
| Trex | Transcend | Vintage Lantern | 2 1/2" | 300 sq ft | FMCTX-TX300TSVL |