PAMFast
Autofeed Screws
Collated on PAMMax Fastener Belts
PAMFast Autofeed Screws are available for a wide variety of interior and exterior applications. All fasteners come on PAMMax fastener belts which hold 40% more fasteners per strip for less time spent reloading.
40% MORE SCREWS PER BELT
PAMMax Fastener Belts hold up to 40% more fasteners for more time driving screws and less time reloading.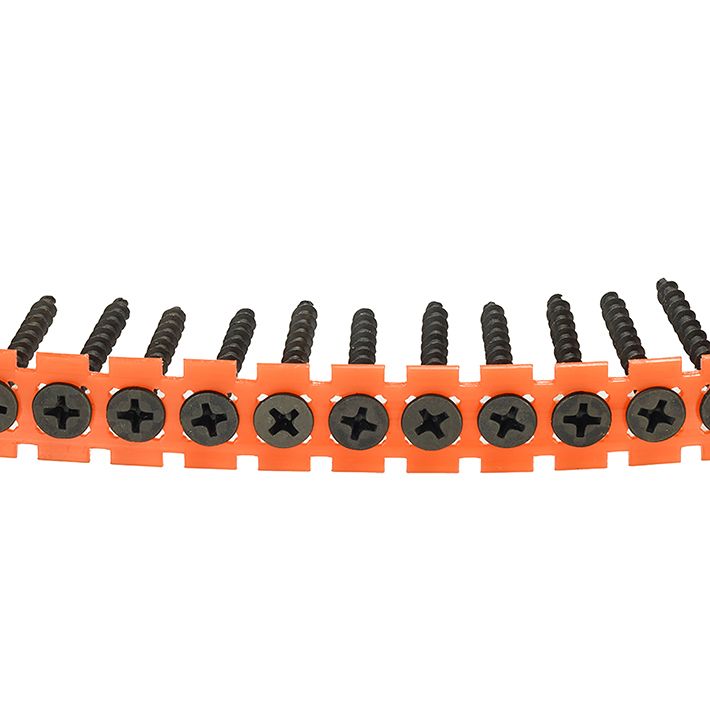 Part Numbers
Wood to Wood Subfloor
PAMDrive, 2⁄3 Coarse Fast Thread, Yellow Zinc, X- point
#8 x 1 1⁄4"
Flat Head
WCYZ8114
#8 x 1 1⁄2"
Flat Head
WCYZ8112
#8 x 1 3⁄4"
Flat Head
WCYZ8134F
#8 x 2"
Flat Head
WCYZ8200F
#8 x 2 1⁄2"
Flat Head
WCYZ8212F
#8 x 3"
Flat Head
WCYZ8300F
High Density Wood (Advantech®) to Wood
PAMDrive, Full Coarse Thread, Yellow Zinc, X-Point
#8 x 1 3⁄4"
Flat Head
FDYZ8134
#8 x 2"
Flat Head
FDYZ8200
Wood to Wood Underlayment
#2 Philips Drive, Hi-Lo Thread, Black Phosphate
#7 x 1"
Modified Trim Head with Nibs
MTH7100
#7 x 1 1⁄4"
Modified Trim Head with Nibs
MTH7114
Cement Fiber board/Siding to Wood
PAMDrive, Coarse Thread, Copperhead
#8 x 1 1/4"
Modified Wafer Head with Flutes
MWMC8114
#8 x 1 5/8"
Modified Wafer Head with Flutes
MWMC8158
Pressure Treated Decking to Wood
PAMDrive, 2⁄3 Coarse Thread, Type 17 or X-Point, Stainless Steel or Copperhead
#8 x 1 3⁄4"
Flat Head
WDCH8134
#8 x 2"
Flat Head
WDCH8200
#8 x 2 1⁄2"
Flat Head
WDCH8212
#8 x 3"
Flat Head
WDCH8300
#8 x 2 1⁄2"
Trim Head
THCH8212
#8 x 1 3⁄4"
Flat Head - SS
WDSS8134
#8 x 2 1⁄2"
Flat Head - SS
WDSS8212
#10 x 2 1⁄2"
Flat Head - 316 SS
WDSS10212
#10 x 3"
Flat Head - 316 SS
WDSS1003
Drywall to Wood
#2 Phillips Drive, Coarse Thread, Black Phosphate
#6 x 1 1⁄8"
Bugle Head
GCBP6118
#6 x 1 1⁄4"
Bugle Head
GCBP6114
#6 x 1 5 /8"
Bugle Head
GCBP6158
#7 x 2"
Bugle Head
GCBP7200
TrapEase 3 Collated Screws
Composite Decking to Wood
#8 x 2 1⁄2"
Brown
FMAFTR3-212-1000BR
#8 x 2 1⁄2"
Gray
FMAFTR3-212-1000GY
#8 x 2 1⁄2"
Dark Brown
FMAFTR3-212-1000DB
#8 x 2 1⁄2"
Red
FMAFTR3-212-1000RD
Roofing Tile to Wood
PAMDrive, 2⁄3 Coarse Thread, Stainless Steel or Copperhead. Miami Dade Co Certification #L 09-0720.14
#8 x 2 1⁄2"
Flat Head
WTDC8212
#8 x 3"
Flat Head
WTDC8300
#8 x 1 3⁄4"
Flat Head - SS
WDSS8134
#8 x 2 1⁄2"
Bugle Head - SS
WDSB8212
Drywall to 18-25 Gauge Steel
#2 Phillips Drive, Fine Thread, Black Phosphate
#6 x 1 1⁄4"
Bugle Head
GFBP6114
#6 x 1 5⁄8"
Bugle Head
GFBP6158
#6 x 2"
Bugle Head
GFBP6200
#8 x 1 3⁄4"
Flat Head - SS
WDSS8134
#8 x 2 1⁄2"
Bugle Head - SS
WDSB8212
Drywall to 16-18 Gauge Steel
#2 Phillips Drive, Self Drill, Clear Zinc
#6 x 1 1⁄4"
Bugle Head
SDCZ6114
#6 x 1 5⁄8"
Bugle Head
SDCZ6158
Steel to 14-18 Gauge Steel Framing
PAMDrive, Self Drill, Clear Zinc
#10-18 x 3⁄4"
Pan Head
SD101834
Wood/DensGlass to 18-25 Gauge Steel
PAMDrive, Full Fine Thread, Sharp Point, Clear Zinc
#8 x 1 1⁄2"
Flat Head
SPCZ8112
#8 x 2"
Flat Head
SPCZ8200
Wood/DensGlass to 14-18 Gauge Steel
PAMDrive, Fine Thread, Self Drill, Clear Zinc
#8 x 2"
Flat Head
SDCZ8200
Wood to 12-18 Gauge Steel
Subfloor and Trailer Floor PAMDrive, Self Drill with Wings, Clear Zinc
#10 x 1 3⁄4"
Flat Head
SDW10134
Cement Fiber board/Siding to Steel
PAMDrive, Self Drill with Wings, Copperhead
#8 x 1 1⁄4"
Modified Wafer Head with Flutes
CHMW8114
#8 x 1 5⁄8"
Modified Wafer Head with Flutes
CHMW8158