PAMFast
AutoFeed System
Automated Fastener Installation
From framing, to decking, to remodeling, the PAMFast AutoFeed Screw System drives screws everywhere you do. PAMFast is engineered to be smooth, fast, and easy for the professional contractor.
No Jams
PAMFast's Smooth Advancement Technology ensures a clean, smooth drive while eliminating jams, rejections and other issues common on similar tools.
40% More Screws Per Belt
PAMMax Fastener Belts hold up to 40% more fasteners for more time driving screws and less time reloading.
Whole Home Fastening Solution
As a 2 in 1 interchangeable length tool, the removable extension pole enables easy long-to-short conversion for a variety of fastening needs. Fasten subfloor and decking while standing comfortably, or convert to a short tool to fasten drywall, roof tiles, and more.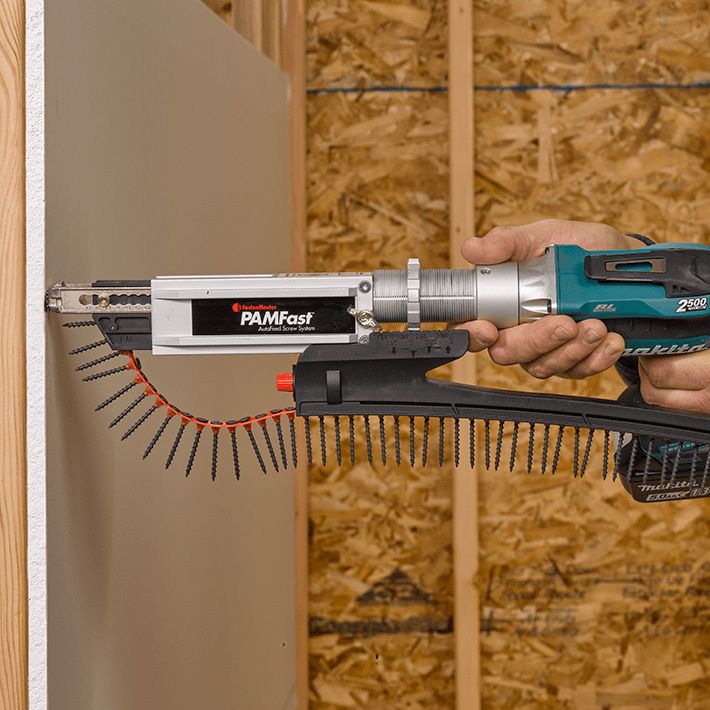 Part Numbers
| | | | |
| --- | --- | --- | --- |
| PAMFast Tool SKU | Compatible Motor | Power Type | Motor Included? |
| SD-20-DWC13KUE | DeWALT DCF622B | Cordless | Yes |
| SD-20-MAC13KUE | Makita XSF04Z | Cordless | Yes |
| SD-20-P13KUE | Milwaukee 6740-20 | Corded | Yes |
| SD-20-DWC13KIT | DeWalt DCF622B | Cordless | No |
| SD-20-MAC13KIT | Makita XSF04Z | Cordless | No |